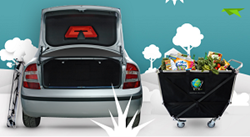 The European company behind the development and manufacturing of EcoloCart has invested a great deal of resources in the early-stage product development to offer consumers a functional and elegant product that allows for convenient shopping.
Crosne, France (PRWEB) January 21, 2014
The EcoloCart is an eco-friendly, patent pending product developed by Leo Abecassis of Crosne, France. His product has been well received by environmentalists worldwide, and he has recently started a crowdfunding campaign on E-Fundie to raise the necessary funds to bring his invention to life.
Abecassis conceived the EcoloCart after learning that governments worldwide are banning the plastic bag at retail locations. While these bans remove harmful plastics from the environment, they also make life more difficult for shoppers. The EcoloCart helps solve both problems.
With plastic bags becoming more rare around the world, the need for a device to transport food from one place to another does not end. The EcoloCart lets shoppers get their products from the store to the car and from the car to their kitchens. The cart is handy for people of all ages, especially older individuals who have trouble carrying their groceries from place to place.
The design for the EcoloCart takes advantage of over 40 years of design innovation. The cart is made of light and nimble fabric supported by four sturdy wheels. Although lightweight, the cart is incredibly strong and is able to hold a significant amount of weight in its two 45-liter polyester bags. The design of the EcoloCart lets it move quickly and easily across parking lots, driveways and sidewalks.
Abecassis turned to E-Fundie to raise the necessary funds to bring his product to market, and provide an opportunity for the environmentally conscience community to invest in this unique idea. The goal of the crowdfunding campaign is to raise 360,000 Euro. Independent engineers & experts have determined that this is the amount needed to launch the product and provide the support necessary to market the EcoloCart successfully.
When investors decide to join the crowdfunding campaign they have fifteen levels to choose from, starting at one Euro and going all the way up to 30,000 Euros. At each level, investors are rewarded with certain perks, starting with a thank you at the one Euro level. As the level of investment increases, the investor receives more perks including EcoloCart (s) as a main perk.
About EcoloCart
EcoloCart is the brainchild of Leo Abecassis based in Crosne, France. He has been described as an environmental entrepreneur, and instead of calling for bans on popular devices, he is putting his ingenuity to use replacing environmentally harmful products with more eco-friendly alternatives that meet the needs of modern consumers.
###
Contact:
Mark Harai – BloggerBeat Partners (303) 800-0944 / mark(at)markharai(dot)com
Leo Abecassis - Inventor, Patent Holder / leo.abk6(at)hotmail(dot)com