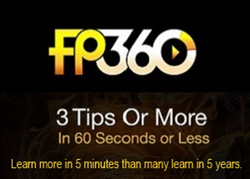 Full Potential's mission is to help people reach their full potential in a fast-track manner.
San Fransisco, CA (PRWEB) May 08, 2014
Full Potential releases new productivity videos on FP360.com to celebrate the upcoming Productivity Day, celebrated June 20th. FP360 is a Full Potential company initiative that gives important tips to people on how to lead more fulfilling life physically, mentally, socially and so on.
Full-potential seekers already have access to more than 100 "Full Potential: 3 Tips or More in 60 Seconds or Less" videos that touch upon everyday concerns such as productivity, financial health, cognitive fitness, and skills related to leadership, resilience and organization.
To celebrate the upcoming Productivity Day, the FP360 channel has released several videos by experts like Heida Hanna, a speaker and consultant who has trained thousands of individuals on practical ways to improve their performance and attitude through positive psychology. Ms. Hanna's video, "3 Tips on How to Keep A Sharp Mind In 60 Seconds or Less" focuses on three practical tips through which people can stay focused and efficient on a day to day basis. One of her performance-boosting tips is visualization. She advices to visually plan and go through the steps of a task or demanding project so that when the time comes to actually perform a task, practitioners can execute it with accuracy, focus and efficiency.
Full Potential's mission is to help people reach their full potential in a fast-track manner. While other self-improvement philosophies can take years of study and resources, FP360 offers great insights and highlights by experts in a short and snappy way. The entire video series are presented in 60 seconds or less to achieve two things; to save the viewer time and provide actionable tips they can implement immediately.
Other experts sharing their life-changing tips with FP360 viewers include Dr. Holly Andersen, Barbara Lester, Samantha Ibarguen and leadership coach, Daniel Grissom. For more tips on how to achieve one's full potential by learning the bare essentials, without the fluff, checkout the FP360 Blog.
About Full Potential
Full Potential is a daily positive programming philosophy that allows people to reach the top in the 7 most significant aspects of their lives; physical, mental, social, financial, emotional, spiritual and environmental. FP360 is a sister company to Full Potential offering free, expert advice on how to realize one's full potential.
###
Contact:
Mark Harai - (303) 800-0944/ mark(at)bloggerbeat(dot)com
James Rick Stenson – (302) 233- 7116/ james.stinson(at)fullpotential(dot)com