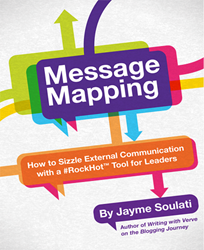 My profession is public relations blended with digital, content and social media marketing with message mapping at the core.
Dayton, Ohio (PRWEB) January 30, 2014
Jayme Soulati, president of Soulati Media, Inc. and in partnership with Mark Harai, CEO of BloggerBeat, today released availability of a new e-book on the BloggerBeat platform called "Message Mapping: How to Communicate with External Audiences with a #RockHot Tool for Leaders."
The 100-page e-book is a step-by-step guide for marketing and public relations teams and business leaders to learn the best approach to a unified messaging strategy for all external audiences. The book is also helpful in kickstarting strategic content marketing and social media.
Soulati developed the book based on her 30 years in the field of media relations and public relations marketing. She has facilitated and executed some two dozen messaging sessions with start-ups, mid-size and global corporations across a breadth of industries.
"Executives need a message map to strengthen delivery of unified messaging to external audiences," said Soulati. "The message mapping process is suitable for any team, any time. Every business needs to revisit how it portrays itself to customers, and a message map is the perfect tool."
In her e-book, Soulati creates a fictitious company and unfolds an actual message map explaining each step in the process. Once a map is created, the book encourages spokesperson training using the message map to guide executives in message delivery to external audiences.
Click here to purchase the book for $24.95 or download a free chapter.
Contact:
Mark Harai – (303) 800-0944/ mark(at)bloggerbeat(dot)com
Jayme Soulati – (937) 312-1363/ jayme(at)soulati(dot)com