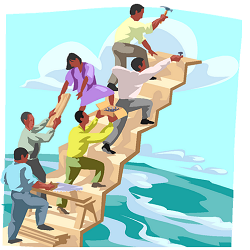 Each of us has had our share of knocks on the climb, and our mistakes have become teachable. We function in light and love to balance the chaos in business today, and the partnerships we seek are blanketed in this philosophy
Dayton, Ohio (PRWEB) February 10, 2014
BloggerBeat, an online marketplace and professional blogging community, launched today targeting the content marketing needs of companies of all sizes, start-ups and entrepreneurs interested in elevating lead generation and brand influence.
Featuring a community of award-winning professional bloggers, BloggerBeat was developed by Mark Harai, an entrepreneur who builds strategic relationships to improve business growth and sustained profitability. His vision for BloggerBeat came from the realization that many businesses are challenged by content marketing demands and lack the understanding of the digital marketing landscape.
Harai has assembled a core team of professionals with expertise from across marketing disciplines to deliver message mapping, copywriting, blog posts, landing pages, and development of email lists that together converge into solid marketing strategy for emerging and established businesses.
"BloggerBeat is my creation from 25 years working with start-ups and seeing their needs across the marketing spectrum," said Mark Harai, founder of BloggerBeat. "The first thing I look at when speaking with leaders is the company blog; in 90 percent of cases, it is deficient and not working to standard. A blog is the engine that drives creation of leads, SEO, influence, positioning, and community."
BloggerBeat is tailoring specialty content for companies working in the sectors of business, consumer tech, real estate, hospitality, lifestyle, and industry.
The core BloggerBeat team assesses the needs of the company and determines the best approach to accomplish a company's goals.
To learn more, visit the BloggerBeat Marketplace.
###
About Mark Harai
A life-long entrepreneur, Mark Harai has devoted more than 25 years funding, launching, and recruiting teams that manage startups, as well as helping existing businesses get back on the right-track and stay there. Mark is the Founder of three (3) widely followed and highly respected websites: MarkHarai.com, Light-Core.com, and GroTraffic.com which continue to lend valuable advice to businesses through relevant content and create varied avenues of opportunities to build businesses by aligning with right-fit, like-minded entrepreneurs.
# # #
Contact:
Mark Harai – (303) 800-0944/ mark(at)bloggerbeat(dot)com
Jayme Soulati – (937) 312-1363/ jayme(at)bloggerbeat(dot)com