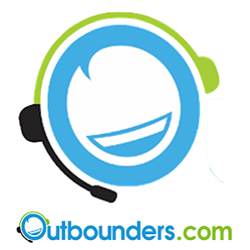 Join over 2,500 customers who have made more than 3 million calls using Outbounders.com
San Francisco, CA (PRWEB) April 01, 2014
Outbounders.com is a niche marketplace, connecting companies with experienced and qualified telemarketing staff. Start-up entrepreneurs, SMB, and larger firms can have hands-on management of their outbound telemarketing campaigns for better results.
Outbounders specializes in outbound telemarketing exclusively, offering a streamlined process of finding the best talent and recruiting it for numerous telemarketing services; from event registration, surveys and lead generation, to fund-raising, B2B sales and customer retention. Outbounders offers an integrated solution for launching outbound telemarketing campaigns in less than 15 minutes.
"We have over 4,000 staff you can hire direct that work from home all over the world that can help you with everything from lead generation, closing sales, winning back clients, doing surveys and more, said James Rick Stenson, CEO of Outbounders.com. "They start at $5/hr through the site and you can listen to audio samples before you interview or hire."
By bringing employer and telemarketer in direct contract, Outbounders eliminates the chances of hiring incompetent staff and offers the much-needed increased control to the employer.
Each company can assess available Outbounders and choose the ones that fit the bill in terms of qualities, experience, hourly pay and results.
Click here to learn more on how to use the site...
Employers now have the flexibility to hire telemarketers at a wide range of hourly rates, ranging from $2 to $20 per hour. In 2013 alone and while still in Beta, 2.4 million calls were carried out by Outbounders.
About Outbounders.com
Outbounders.com is a San Francisco based call center marketplace for businesses, with over 2.5 years of development and beta services that now boasts over 4,000 agents to serve the business marketplace.
###
Contact:
Mark Harai - (303) 800-0944/ mark(dot)harai(at)outbounders.com
James Rick Stenson – (302) 233- 7116/ james(dot)stinson(at)outbounders(dot)com