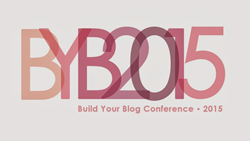 Utah will host some of the most influential bloggers in the lifestyle niche at the Build your Blog Conference this Feb.
Salt Lake City, UT (PRWEB) December 31, 2014
The Blogger Network, a premium ad network for bloggers, announces the 3rd annual blogging conference: Build your Blog Conference #BYBC. The conference will be held on February 20-21, 2015 at the Little America Hotel in Salt Lake City, Utah. The Build your Blog conference brings lifestyle bloggers from all over the country together for two days of educational content from the nation's most popular bloggers. This year is expected to be the biggest so far with over 500 attendees.
"We set out to create a conference for bloggers that is devoted to growing your blog," said Camille Beckstrand, blogger at Six Sisters Stuff and co-founder of Build your Blog Conference. "To make sure we reach bloggers at all levels, we have tracks for beginner, intermediate and advanced bloggers."
Build your Blog Conference, presented by The Blogger Network and The Six Sisters Blog, is an educational conference for those in blogging community who want to network with their peers and further build their online presence and brand. Like The Blogger Network, it was built by bloggers, for bloggers.
Attendees from all over the country will come to Utah for the 2-day conference. Keynote speakers include blogger Isabeau Miller, a former contestant on "The Biggest Loser". Her message is one of inspiration. She propels audiences to live unabashedly, and follow their dreams by embracing their authenticity and venturing fearlessly into the depths of their own truths.
Other speakers include:
Bonnie Andrews from the Hobby to Hot blog
Cara Brook of beauty blog Maskcara
Utah food blogger Maria Lichty of Two Peas & Their Pod
Heather Thoming of lifestyle blog Whipperberry
April Perry from Power of Moms
Sarah & Jessica of Pretty Providence frugal living bloggers
Bloggers will also have the chance to interact with brands throughout the Build your Blog Conference. Sponsors such as GetAway Today, iBlog Magazine, Modify Ink, ShareASale and others will be in attendance. Some sponsorship opportunities are still available as the conference continues to fill up with bloggers from around the nation.
This year's conference will also host the first ever Blogger of the Year Awards with five categories, including people's choice. Prizes worth over $20k will be given to winners who will be recognized at the closing gala at The Grand America Hotel.
"After years of going to conferences where the networking was great but the actual content was lacking, we started our own conference where the speakers, classes and even the interaction with brands was all solely devoted to building your blog," said Beckstrand.
About The Blogger Network
The Blogger Network was built to support the most influential people on the web. We believe that bloggers can have a bigger influence in society. Our goal is to leverage the power of many bloggers with similar goals to create a community that enables each blogger to reach their potential.
Our platform provides tools a blog needs to be successful so they can dedicate their time to creating the great quality content for their readers. We professionally manage ads for bloggers as well as provide access to a host of web and social analytics tools aimed at building their influence, traffic, and earnings.
More at http://www.TheBloggerNetwork.com
A recent study of women in social media found that 49% of online adult women read blogs actively. http://www.slideshare.net/BlogHer/2014-blogher-annual-study-marketers
Utah is a hotbed for bloggers and blogging, and home to some of the top bloggers in the nation: http://www.deseretnews.com/top/677/0/Utahs-women-bloggers-are-top-in-the-nation.html
To register for Build your Blog '15, visit: http://www.buildyourblogconference.com
Follow @BYBC and #BYBC15 for live tweets from the event
Contact Chrissy(at)thebloggernetwork(dot)com for sponsorship opportunities