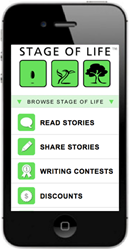 While the site sees its share of Gen X'ers and Baby Boomers contributing posts and essays, the vast majority of its 10,000 writer members are college and high school students
Minneapolis, MN (PRWEB) July 31, 2013
StageofLife.com, an educational and writing resource for students, high school teachers, and bloggers of all ages, from teens to Baby Boomers, welcomed its 10,000th member last week.
Launched in 2009, the website was created to give people who love to write a chance to share their stories about their experiences and opinions on life in a collaborative, multi-generational blogging community.
"When we first launched the writing portal, we thought Mommy Bloggers would be our main user," said Eric Thiegs, CEO and Founder, "However, over time, that has changed." While the site sees its share of Gen X'ers and Baby Boomers contributing posts and essays, the vast majority of its 10,000 writer members are college and high school student bloggers.
A particular reason for this is that the site has been adopted by high school Language Arts teachers from across the country as a forum to extend writing outside of the classroom. This has has generated much of the growth amongst teens and college students ages 14-24.
This adoption of Stage of Life by the Gen Y writing community has pushed triple digit growth in annual site visitors for the last four years.
In the last six months, StageofLife.com has experienced over a quarter of a million unique visitors who are coming to the site to read the essays, view StageofLife.com's proprietary statistics about teenagers, writings contests, etc., and use My Life Rewards – a free loyalty program giving registered blogging members discounts and coupons at some of the nation's best merchants including Lenovo, Papa John's, Precision Tune, GH Bass, Motel 6, and other brands working directly with StageofLife.com to support its national educational literacy efforts.
"I am proud of our company and even more proud of the 10,000 members who have contributed their thoughts and words as we grow to change the world, one story at a time," says Rebecca Thiegs, Vice President of Education for Stage of Life.
As part of its unique content, for the last three years, StageofLife.com has hosted a monthly national writing contest which has drawn the attention and participation of national authors who have donated signed copies of their books as prizes for StageofLife.com to reward winning teen essay winners.
"Our writing contests have been a key driver in reaching the 10,000th blogger mark," says Eric Thiegs, "We want to develop a love for writing with the digitally native Millennial Generation, and it's mind-blowing to see that it is working...people are signing up to write, blog, and share their lives with the world."
Keeping with its roots of creating life-long readers and writers, Stage of Life hopes its users and fans continue to spread the word of its literacy mission. "It's about sharing this love of writing and reading with as many people as we can. 10,000+ contributing writers is a lot...but there are so many other people out there just waiting for their story to be heard," concluded Thiegs.
For more information about StageofLIfe.com and its blogging, reading and writing resources, visit http://www.StageofLIfe.com
# # #
StageofLife.com is a privately held start-up company founded in 2009 by Minnesota natives, cousins and entrepreneurs, Eric and Joseph Thiegs.
As a free educational writing resource, StageofLife.com is home to nearly half a million teen and teacher visitors each school year, 5+ million uploaded words, and thousands of submitted essays. It is becoming the world's largest collection of multi-generational stories and resources tailored by life stage ranging from statistics to etiquette advice to coupons. The site's featured writing resources include writing contests, blogging tips, Language Arts lesson plans, goal setting worksheets, homeschool resources, writing prompts, and more.
You can reach StageofLife.com by contacting Founder and CEO, Eric Thiegs, via email at contact(at)stageoflife(dot)com.