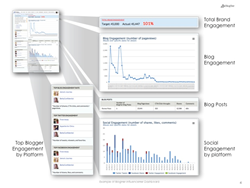 With the InfluenceHer 360 platform, customers are achieving verifiable engagement, exposure and economic efficiency in high-quality environments focused on storytelling and appropriate context.
Belmont, CA (PRWEB) September 24, 2014
BlogHer, Inc., the premium cross-platform media network and publisher for women, today announced the official launch of its proprietary InfluenceHer 360 platform. InfluenceHer 360 is a unified system for managing storytelling content, campaigns, and data across the premium blogs and social profiles in the BlogHer Network, and powers the BlogHer Guarantee, a program that ensures advertisers achieve levels of consumer engagement and brand lift at a highly efficient cost-per-engagement.
InfluenceHer 360 leverages proprietary benchmarks and historical data to predict and commit to comprehensive campaign outcomes as measured by third-party APIs and data from other third-party vendors, such as Nielsen. BlogHer developed the platform and the BlogHer Guarantee to support brand partners seeking predictable earned media results from paid social content, sharing, and amplification programs. Having successfully delivered to guaranteed benchmarks for multiple large-scale campaigns across blogs, Facebook, Instagram, Twitter, and Pinterest over the past year through a dedicated beta program, BlogHer is now offering InfluenceHer 360 as an option for all BlogHer customers.
"We wanted to make content marketing and consumer engagement at scale as efficient and accountable for brands as programmatic advertising," said Lisa Stone, BlogHer Co-founder and CEO. "This scalable technology platform automates what is uniquely BlogHer -- eight years of historical data on how word-of-mouth campaigns by women convert for marketers, plus our best practices for developing and distributing quality storytelling across blogs and social media. This beta period confirmed that initiatives powered by the InfluenceHer 360 platform successfully secure authentic consumer attention and scaled engagement for our customers, at a cost of pennies per engagement."
Among the results guaranteed as part of BlogHer Guarantee campaigns is brand lift, as measured by Nielsen Online Brand Effect, a real-time brand advertising effectiveness measurement and optimization solution from Nielsen. BlogHer's community of influencers create custom, contextual content that drives brand lift results that exceed both objective and category norms. According to Nielsen, BlogHer campaigns have generated an average brand lift that is more than six times higher than Nielsen Online Brand Effect's awareness objective norms, more than six times higher than Nielsen Online Brand Effect's CPG category norms, and more than eight times higher than Nielsen Online Brand Effect's Beauty category norms.
"With a proliferation of ad choices, it's hard to know what works," said Andrew Feigenson, Managing Director, Digital Client Services, Nielsen. "Solutions like Nielsen Online Brand Effect not only help customers measure effectiveness using classic offline metrics such as brand lift, it also provides benchmarks that can provide context for that performance. Combined with real-time insights on what campaign elements are driving performance, such as a particular piece of content or exposure frequency, programs such as the BlogHer Guarantee ensure that clients are getting the most out of their digital investment."
Features available via the Influencer 360 platform include:

Individual influencer performance metrics: BlogHer's network of influencers drive program success by monitoring their own performance on every piece of content, allowing individuals to fine-tune promotions for maximum reach and engagement;
Real-time campaign accountability: Dashboards help marketers track campaign performance in real-time and gain unique insights into the data and influencers delivering on the BlogHer Guarantee, from blogs to social media;
Always-on mobile-responsive toolkit: The platform's suite of automated tools for community management, content tracking and billing equips partners and influencers with metrics, alerts, and approval interfaces at their fingertips.
"With the InfluenceHer 360 platform, customers are achieving verifiable engagement, exposure and economic efficiency in high-quality environments focused on storytelling and appropriate context," said Stone. "On behalf of the entire team, we'd like to thank our beta partners and influencer community for joining us at the vanguard of accountability and quality in digital publishing."
For more information about BlogHer's InfluenceHer 360 platform, please visit: https://www.blogher.com/files/BlogHerInfluenceHer360MediaKit_24Sept2014.pdf
About BlogHer:
BlogHer (http://www.blogher.com) is the leading cross-platform media network created by, for and with women in social media. BlogHer delivers quality advocacy at scale for brands seeking to engage in authentic and persuasive dialogue with moderated communities led by more than 3,000 quality bloggers and 17,000 engaging, original voices in social media, reaching an audience of 100 million across premium blogs, Pinterest™, Facebook®, and Twitter™. Founded in February 2005 by Elisa Camahort Page, Jory Des Jardins, and Lisa Stone, BlogHer publishes and syndicates news, information, advice, recommendations and research on women in social media across interest areas as well as on BlogHer.com. The company also hosts the world's largest conferences for women in social media.