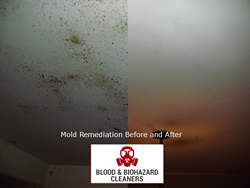 We have had a tremendous year of expansion and we expect 2015 will find us even busier.
Seattle, Wa (PRWEB) April 09, 2015
Blood and Biohazard Cleaners has three new additions to its arsenal of professional biohazard cleaning services which already includes blood and bodily fluid, decomposition, crime scene and hoarding remediation. The company is now trained and licensed for mold, asbestos and lead paint clean up.
"The strong demand for these services is surprising," tells Dan Lombardi, owner of Blood and Biohazard Cleaners. "We began receiving calls so I decided we should get our staff fully trained to deal with these biohazard situations. Now we are and we are busy than ever."
Lombardi's company has grown from one employee last year to seven today and attributes this to his company's professionalism and ethics. Blood and Biohazard provides the following industry-leading guarantees:
Guarantee 1: The client will not pay more than our initial estimate.
Guarantee 2: BBC will continue the cleanup until the client is satisfied and passed their visual inspection. There will be no additional cost.
Guarantee 3: If something is found after the work is completed, BBC will return to clean it. There will be no additional cost.
As far as professionalism is concerned, staff have taken specialized courses handling asbestos, mold, blood work and lead based paints and their proper disposal with Cole & Associates, an engineering firm dedicated to workplace safety and environmentally sound guidance for construction management and corporate training endeavors.
In fact, Blood and Biohazard Cleaners is now located with Cole & Associates at 8657 S 190 St., Kent WA.
"We have had a tremendous year of expansion and we expect 2015 will find us even busier," comments Lombardi. "Expanding our services for asbestos, mold and lead paint cleanups is just another step in our growth. We look forward to helping many more people and companies across Washington state but particularly in the Seattle-Tacoma area with their biohazard cleanup problems."
For more information about Blood and Biohazard Cleaners or their services, please contact:
Dan Lombardi at (425) 306-6444.
http://www.bloodandbiohazardcleaners.com