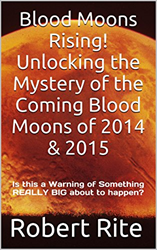 Unlocking the Mystery of the Coming Blood Moons of 2014 & 2015
North Bergen, New Jersey (PRWEB) October 06, 2014
Robert Rite announces today that the updated September 2014 digital version of his book "Blood Moons Rising" will be available at no charge until October 10, 2014.
"These blood moons are harbingers of very significant events that seem to have already started to affect the entire world, and this is why I want to get this information out to as many people as possible," says Robert Rite.
In "Blood Moons Rising" Robert Rite warned that the 4 lunar eclipses of 2014/2015 (referred to as a tetrad) may be a sign of great turbulence ahead for mankind. Robert believes that 2015 will be a pivotal year which, in addition to the blood moons, encompasses several other important heavenly and prophetic signs, all converging within this short span of time.
Robert further states: "After just the first blood moon which occurred on April 15, 2014, we have all witnessed an eerie escalation of chaos and unrest throughout the world, and this is just after the first lunar eclipse. There are still three more NASA confirmed total lunar eclipses due through 2015, with the next one occurring on October 8, 2014. There are also a few other significant signs - including 2 solar eclipses scheduled over the next 12 months. These are all revealed in this updated version of my book."
Here are the links to the limited time free book offer:
http://www.amazon.com/dp/B00JBTG7DK
The paperback version is available at: https://www.createspace.com/5026117
Robert's Video on Blood Moons: https://www.youtube.com/watch?v=NCPyM2J8VRM
About Robert Rite Books
Robert is the author of over 10 books, including "Revelation Mysteries Decoded", "Signs in the Heavens", "Ancient Apocalypse Codes", "Babylon the Great is Fallen, is Fallen," "Blood Moons Rising" and related non-fiction releases. Says Robert, "My books attempt to clearly establish a distinction between the fiction and the reality of the supernatural realm. I focus on only subject matter - that matters."