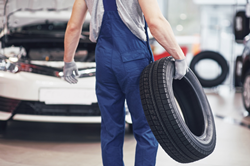 BLOOMINGTON, Ind. (PRWEB) April 16, 2019
The winter season is over and it is finally time to get out and enjoy the sunshine with the coming of spring and summer. However, as drivers take off their winter tires and prep for the changing season, they might notice their tires are not up to snuff for 2019. Because tire prices can quickly add up, drivers are also hesitant to replace them, making traveling more dangerous with bad tires. That's why Royal South Toyota, a dealership in Bloomington, is offering a great deal on a whole set of new tires.
Even though it's wise to buy tires in pairs to ensure that they balance out and wear evenly, it's even wiser to take advantage of the buy three tires get one for $1 deal going on now at Royal South Toyota. The dealership helps drivers save some hard-earned money while helping their vehicles get a strong and secure grip on the roads for 2019. However, interested shoppers should act quickly, as this deal ends at the end of the month.
Along with just getting new tires this spring, many cars are likely due or overdue for a tune-up. In fact, regularly scheduled maintenance visits for things such as oil changes are vital to the performance of a vehicle. The skilled technicians at Royal South Toyota also specialize in services such as alignments, tire rotations, electrical services, filter replacements and much more.
Royal South Toyota is a full-service dealership that specializes in both new and used Toyota vehicles. Those interested in this great deal on new tires can visit the dealership's website at http://www.royalsouthtoyota.com or speak to a representative directly by dialing 833-229-7042.