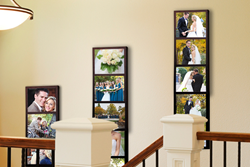 Trendy home decor beyond a traditional photo on the wall!
La Crosse, WI (PRWEB) March 16, 2016
Blossom announced today that they have launched a new interactive tool to design Photo Booth wall art online. Blossom, which features handcrafted, eco-friendly and customizable canvas wall art is expanding their product line with trendy additions including Vintage, Filmstrip, and Photo Booth options. Forget the tiny photo booth wedding snapshots, make your memories life-size!
Using the latest in web technology, customers can choose their canvas art template, upload their photos and customize their wall art using Blossom's unique website tool. "We wanted to create something new and exciting in the world of home décor beyond a traditional photo on the wall. By utilizing customer-loved templates, such as the photo booth trend, we've paired our high quality materials and created an amazing statement piece", says Megan Sundvall, Blossom's Director of Marketing & Online Business Development. "Our customers are looking for online and mobile friendly technology, unique and custom pieces, and an amazing handcrafted final product. These additions help position Blossom within the online home décor niche marketplace".
Customers can view Blossom's entire product line including traditional custom photo canvas wraps, wall art, and the latest trendy additions online at http://www.blossompix.com.
Blossom, a division of In*Tech Integrated Marketing Services, is a third-generation, family-owned company based in La Crosse, WI with a growing online presence with customers nation-wide. A leader in innovative print solutions, In*Tech is experiencing an exciting period of growth and increased product offerings with both its Blossom and In*Tech brands.
For more information, please contact:
Megan Sundvall
Director of Marketing & Online Business Development
608-797-2911
msundvall(at)intechims(dot)com