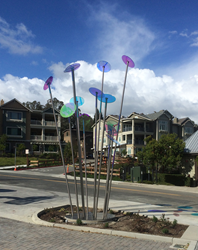 Lafayette, CA (PRWEB) May 13, 2016
Huether worked with the landscape architecture firm (Environmental Foresight Inc. (EFI) and The New Home Company to conceptualize a work of art with a contemporary feel, made with excellent craftsmanship.
Blossoms is intended to enhance the space, to function as a place-maker and to encourage the community of Lafayette to gather in an accessible and beautiful point in the landscape. Inspired by flowering plants native to the region, including Mountain Lilac, Wild Hyacinth, Lupine, Buttercups and the California Poppy the sculpture represents Woodbury's commitment to sustainability and creating desirable community-shared spaces that foster a lively and vibrant residential community. Huether's intention was for the piece to also function as a gateway to The Woodbury Luxury Condominiums as it clearly visible from Mt. Diablo Blvd.
Blossoms will be illuminated at night with LED lighting, is made of stainless steel and dichroic glass and has a 6' diameter baseplate and measures approximately 20' in height. The sculpture was officially presented to the City of Lafayette's public art committee in December 2014.
The Woodbury recently received several awards from The Bay Area Building Industry Association (BIA) "Excellence in Homebuilding" for "Best Architectural Design" and "Community of the Year". The project was designed by Ward Young Architecture & Planning, and incorporated environmentally conscious building techniques.
About Gordon Huether Studio
Gordon Huether has mastered the challenge of creating art in a multitude of environments and mediums. The scale of his work ranges from large architectural installations for public commissions to small intimate works of art for private collections and residences.
Since founding Gordon Huether Studio in Napa, California in 1987, Huether has worked extensively with glass on a large scale and has also created works incorporating salvaged materials, bronze, aluminum, steel, light, water and neon. All work is fabricated at Gordon Huether Studio by artisans who are internationally recognized for their creativity, technical ability and craftsmanship.
Huether's talent for intuitively reacting to the materials and the space they occupy, whether indoors or out, has led to the successful completion of over 60 public art projects and more than 160 private art commissions.
In 2009, Huether was the recipient of several awards, including the Americans for the Arts Public Art Network (PAN) Best Public Artwork in the US Award for the "Gotta Go" art installation at the Jacksonville International Airport.
In 2015 Gordon Huether and his team have been selected to work with the Salt Lake City Department of Airports in meeting the goals of the Terminal Redevelopment Program at Salt Lake City International Airport, which includes a comprehensive art master plan. The brand new state-of-the-art terminal, currently one of the largest construction projects in the United States, will showcase Huether's art throughout the new terminal.
For more information, please visit http://www.gordonhuether.com.