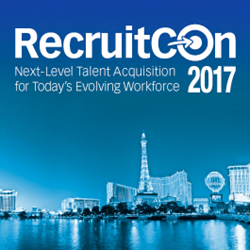 Brentwood, TN (PRWEB) April 07, 2017
BLR® Business and Legal Resources, the leading provider of employment, safety and environmental compliance solutions, is pleased to present RecruitCon 2017, a national conference taking place May 11-12 in Las Vegas, NV.
RecruitCon 2017 is specifically crafted to provide HR professionals and recruiters with the tools and tactics they need to keep up with new trends, streamline hiring processes, sharpen interview skills, improve on-boarding, and more.
At this 2-day accredited conference, the nation's top experts will reveal proven best practices for:

Completing the new Form I-9 with the help of a hands-on workshop
Tackling turnover head-on with a rock-solid business continuity plan and a strong leadership pipeline
Getting executive team buy-in on the recruiting resources you need
Utilizing 'big data' to help you improve the quality and retention of new hires, and even link recruiting to business performance to prove ROI
Understanding the most impactful strategies to attract and retain veterans, Millennials, and other key demographics
Implementing diversity strategies that really work
Learning the very latest recruiting technologies and leveraging existing social platforms
And uncovering proven ways to supercharge your talent acquisition program
On the influential speaker panel are Mark Bania, sales leader for CareerBuilder; Lori Calderon, director of talent acquisition for The Cosmopolitan of Las Vegas; Steve Lowisz, CEO of Qualigence; Cheryl Prahl, senior vice president of human resources for Dell Technologies; and Scott Sherman, director of talent acquisition for Sodexo.
For more information, please visit Recruitcon.BLR.com/.
About BLR®
BLR®—Business & Legal Resources helps U.S. businesses simplify compliance with state and federal legal requirements, and help them become more successful. They do this by offering authoritative content and practical, easy-to-use tools. Through their expert in-house editors and exclusive attorney network, they provide the most comprehensive, reliable state-specific information available—and do it in all 50 states. Their award-winning information products—including training programs, events, web portals, reports and subscription services—give businesses of all sizes and industries the best tools available at affordable prices. Connect with the organization at: https://www.linkedin.com/groups/2174166/profile
Contact:
Kimberly St. Lawrence
BLR®—Business & Legal Resources
100 Winners Circle, Suite 300, Brentwood, TN 37027
P 800-727-5257 Ext. 3874
kstlawrence(at)blr(dot)com
http://www.BLR.com
###