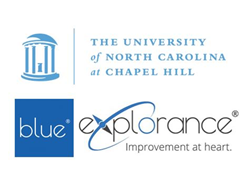 [Choosing eXplorance's solution was based on] the ability of Blue to adapt to our decentralized method of administering course evaluations
Montreal, Quebec (PRWEB) July 06, 2017
The University of North Carolina at Chapel Hill, an R1-classified university and one of the top public universities in the U.S., chooses eXplorance's Blue online course evaluation system to support its decentralized course assessment approach. The decentralized research university has been looking for an evaluation solution to automate their data collection process, discover fact-based actionable insights to improve teaching and learning.
What prompted the oldest public university in the country to turn to the Blue course evaluation tool was "the ability of Blue to adapt to our decentralized method of administering course evaluations," says Dr. Block, Program Compliance Coordinator. Universities tend to centralize their efforts when it comes to course evaluations, which then leads to low student response rates. In order to increase the engagement, UNC involves faculty and students throughout the assessment planning process. They aim to automate the global process, while leaving enough autonomy across the different levels of the university hierarchy to ensure that each unit's specific assessment needs are met.
Blue is an all-in-one evaluation platform that leverages a range of feedback solutions to measure expectations, competencies, knowledge, needs and skills and support a culture of continuous improvement through learning and development. The online course evaluation system enables administrators to setup and automate cross campus functions, while each school, department or faculty member can influence the questions that matter to them the most, focusing on strategic decisions and analytics.
UNC chose the Blue course assessment solution to support its culture of continued learning and to implement its decentralized approach for course evaluations across the campus. Supporting a decentralization approach requires a structured process and a solution that can support an automated, agile and robust process. Visit the page of the all-in-one online course evaluation tool to learn how learning and teaching experience analytics can help your institution continuously improve decision-making for improved learning and teaching.
About the University of North Carolina at Chapel Hill
The University of North Carolina at Chapel Hill, the nation's first public university, is a global higher education leader known for innovative teaching, research and public service. A member of the prestigious Association of American Universities, Carolina regularly ranks as the best value for academic quality in U.S. public higher education. Now in its third century, the University offers 77 bachelor's, 113 master's, 68 doctorate and seven professional degree programs through 14 schools and the College of Arts and Sciences. Every day, faculty, staff and students shape their teaching, research and public service to meet North Carolina's most pressing needs in every region and all 100 counties. Carolina's more than 318,000 alumni live in all 50 states and 157 countries. More than 167,000 live in North Carolina.
About eXplorance
eXplorance, a Learning Experience Management (LEM) solutions provider, empowers organizations in making the right decisions with fact-based learning experience analytics. eXplorance's offerings, Blue® and Bluepulse®, help instill a culture of continuous improvement by assessing (e.g., course evaluations, institutional surveys, 360 degree feedback reviews, advisor assessments), analyzing, and improving stakeholder needs, expectations, skills, knowledge, and competencies.
Founded in 2003, eXplorance is a privately held corporation based in Montreal, Canada with offices in APAC, Europe, and Latin America. eXplorance is deemed one of the Best Workplaces by the Great Places to Work Institute®, having been awarded this title for four consecutive years. eXplorance's clients include academic institutions such as the University of Melbourne, University of Pennsylvania, University of Toronto, Zayed University, Del Mar College, Bowdoin College, IESE Business School, Xi'an Jiaotong-Liverpool University, University of Auckland, and Liverpool John Moores University and organizations including Aramco, National Bank of Canada, and NASA.