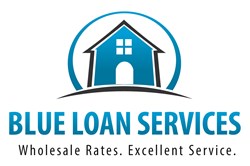 San Diego, CA (PRWEB) January 23, 2014
Blue Loan Services is a full service mortgage company that has been providing California home loan borrowers with the best wholesale home purchase and refinance rates, as well as access to the most trusted California mortgage lenders and specialized loan products for many years. The company's website offers a number of tools that homeowners and home buyers can use to find the best mortgage scenarios for their unique financial situations and lifestyles, as well as news on the latest mortgage trends and other stories that affect mortgage rates and home prices. Now, as home loan rates are starting to slowly lose the improvements gained over the past few weeks, the loan company explains the possible outcome of the increasing trend and gives some advice for those looking for the best loan deals.
A January 22nd report from Mortgage News Daily explains, "Mortgage rates edged modestly higher for a second straight day, though they're still in a lower range than most of December and early January. The movement was small enough as to only effect the closing costs associated with yesterday's rates. 4.5% remains the most prevalently quoted conforming 30yr fixed rate for ideal scenarios (best-execution). When adjusted for day to day changes in closing costs, rates rose an equivalent of 0.02% today."
That same article goes on to say, "Although rates have managed to stay in this newer, lower range for the past two weeks, they'll soon come to a crossroads, if they're not there already. The decision to move higher or lower from here is most likely to be informed by next week's FOMC Announcement. That will be the Fed's chance to either stay on the same path with respect to reducing it's bond buying (which benefits rates), or to pay some mind to the last jobs report, either by slowing down the pace of tapering or holding off altogether for one cycle."
Blue Loan Services explains that if the Fed does decide to stay on the same course with its tapering, it is likely that the move lower this January will come to an end. With rates expected to rise throughout 2014, if this happens, California borrowers may not see these same low levels for a very long time. The mortgage company also notes that, while the announcement is not until next Wednesday, borrowers might want to decide now whether they will lock in today's low mortgage rates or float and hope that rates will continue in this low range or even go lower. This is because rates are not likely to change much one way or the other until there is motivation for them to do so, such as the results of the FOMC meeting.
As always, Blue Loan Services notes that the safest course of action for home loan borrowers is to lock in the current rates if they are within an acceptable range for the loan borrower. There are some lenders that allow renegotiation of rates if rates go down significantly before closing. But if the borrower did not lock in, and rates get higher, there is no way to get back to previously lower rates.
Blue Loan Services can help those who wish to lock in today's low mortgage rates to find the best possible loans for their situation and work quickly to get approved so that they can avoid higher rates down the line. Their fast online loan application and documentation portal makes it simple for clients to submit their application and keep track of their loan's progress. With a reputation for fast, reliable and courteous service, the company's team of experienced loan officers can be especially useful during this time of rapidly changing mortgage rates.
For more information on how Blue Loan Services can help California home loan borrowers get approved for their home purchase loan or refinance quickly, please visit BlueLoanServices.com or call 1-888-929-BLUE (2583) to speak with an experienced mortgage professional.
CA Dept of Real Estate -- Licensed Broker #01094374 NMLS #938365