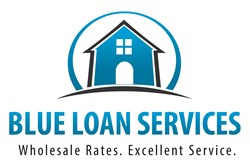 San Diego, CA (PRWEB) November 01, 2013
Blue Loan Services is a full service mortgage company that has been helping residents of California to find the best loan products and home loan rates for many years. The company, headed by the father and son team Robert and Brandon Blue, has been dedicated to serving its customers with honesty, integrity and competence. The Blue Loan Services team of mortgage professionals operates with the goal to provide home loans to its clients while providing them with the lowest wholesale interest rates and closing costs possible. These services can be very useful at the moment, as California rates remain steady near 4 month lows. These low rates, along with the company's ability to find and close the best home purchase and refinance loans, can help many California borrowers to find loans that will save them thousands, or even hundreds of thousands, of dollars.
An October 28th report from Mortgage News Daily says: "Mortgage rates stayed in line with recent 4-month lows today. In some cases, there was a slight movement in the closing costs associated with prevailing rates, but the rates themselves didn't change. The most prevalent Conforming 30yr fixed quote (best-execution) remained at 4.125%. Every day since last week's jobs report has been relatively calm for mortgage rates. Even then, there was reason to believe that we could be lacking some direction until the next major round of economic data came in. That culminates in next week's jobs report (which is occurring so close to the previous report due to shutdown-related rescheduling), but the current week can certainly play a role."
These new rates are great news for those who have put off their home loan plans due to the higher rates of the past few months. Blue Loan Services can help those who wish to lock in the current rates to find the best possible loans for their situation and work quickly to get approved. As one of the recent reviews from a client of the company attests:
"Great experience! After a frustratingly disastrous attempt to refinance through our then existing mortgage company I was referred to Brandon by a coworker. Brandon assured me that the process needn't be so unpleasant and we quickly got started--and it couldn't have gone smoother. Every question I had was quickly answered and he and his team were there to help every step of the way."
Another Blue Loan Services review from clients living in Rancho Palos Verdes, says: "We've bought and sold many houses, so financing and refinancing are not new to us. We spoke with several lenders and brokers, but Brandon Blue was the only one who figured out a way for us to refinance in a way that made sense and saved us a whole lot of money. He was reliable, trustworthy, and calm, and we'd love to work with him again."
These are just a few of the many new reviews that attest to the company's expertise when it comes to home purchase loans and loan refinances. For more information on how Blue Loan Services can help California home loan borrowers get approved for their home purchase loan or refinance quickly, please visit BlueLoanServices.com or call 1-888-929-BLUE (2583) to speak with an experienced mortgage professional.
CA Dept of Real Estate -- Licensed Broker #01094374 NMLS #938365