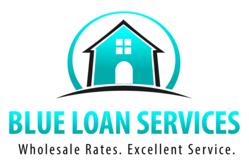 San Diego, CA (PRWEB) July 04, 2013
Blue Loan Services is a full service mortgage company that has been helping homeowners and buyers in the California area to get the lowest rates and find the best loan programs for many years and continues to expand their business, now offering expert loan advice on their Blue Loan Services review blog, as well as interactive tools and resources. Senior loan officer Brandon Blue and the rest of the Blue Loan Services team are also dedicated to offering the best refinance rates and lowest mortgage payments in minutes. Their website blog says:
"We will beat virtually any mortgage rate quote and our wide selection of loan products are sure to provide the perfect mortgage solution for all of your Real Estate Finance needs. We specialize in home purchase, home refinance, second mortgage, and home equity loans. Our mission is to serve our customers with honesty, integrity and competence. Our goal is to provide home loans to our clients while providing them with the lowest interest rates and closing costs possible."
Brandon Blue, who has gotten many shining reviews from those who have used Blue Loan Services to service their loans, has been in the mortgage business for over 8 years, along with his father and co-owner of Blue Loan Services, Robert Blue, who has over 25 years of experience in the mortgage industry. Both father and son are proud United States Army Veterans, and after completing his contract with the U.S. Army in 2005, Brandon has been a loan officer with Blue Loan Services.
Many of the company's new features are a result of Brandon's initiative and desire to provide the best possible service for Blue Loan Services' clients. The new blog articles help homeowners and buyers to choose the best loan products for their situation and the many mortgage calculators can help borrowers figure out what type of mortgage terms would be the most beneficial for them. However, the feature that many clients find the most useful is the online loan application and documentation system which, along with the free fast rate quote tool, is the easiest way to find and apply for the best loan options available.
Those who have done business with this mortgage company have great things to say about these new services. A new review from a client living in Redwood City, California says:
"Everyone I dealt with at Brandon Blue was extremely professional, responsive and courteous. I was refinancing my primary loan, but had a 2nd, so a subordination was needed from that 2nd mortgage company. There was some doubt early on whether that subordination would happen in time, but Shari at Brandon Blue was calling my 2nd mortgage company on a nearly daily basis to push them to get it done! She was key to my refinance completing on time. The process Brandon Blue has in place for communicating with their customers is very robust. I've probably refinanced 10 times in my life, and I've never had anywhere near this level of communication and willingness to help from any other company. I would highly recommend Brandon Blue for anyone with mortgage needs!"
Overall, the new online features and tools, as well as the personal attention given to each client, are what have made Blue Loan Services one of the top rated California mortgage companies around. Those who are interested in availing of these services may visit the company's website by clicking here or call 1-888-929-BLUE (2583) to discuss their loan options with an experienced mortgage professional.
CA Dept of Real Estate -- Licensed Broker #01094374 NMLS #938365