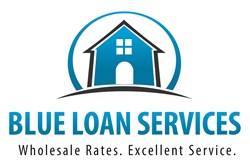 San Diego, CA (PRWEB) January 03, 2014
Blue Loan Services is a full service mortgage company that has been helping California home loan borrowers to find the best loan products and benefit from the lowest mortgage rates and fees for many years. The Blue Loan Services team of mortgage professionals, headed by the father/son team Robert and Brandon Blue, is dedicated to serving its customers with honesty, integrity and competence. The company also strives to keep borrowers up to date on any changes in the mortgage or finance worlds which could affect their ability to secure affordable home financing, such as changes in rates or home loan policies. With the year just starting, and most important economic reports not yet available, California home loan borrowers are looking at pretty much flat rates for the time being.
A January 2nd report from Mortgage News Daily explains, "Mortgage rates were almost perfectly flat today. Various lenders were in slightly better or worse shape, but on average, today's quotes will look very similar to Tuesday's. That means 4.625% remains the most prevalently quoted rate for ideal, conforming 30yr Fixed loans (best-execution), with the minimal changes coming in the form of closing costs. The financial markets that underlie mortgage rate movement managed a slightly more active day with the arrival of the new year, but things won't be close to normal until next week. That means rates are currently being decided with fewer than the normal amount of votes. When the majority returns next week, it could result in more pronounced movement."
Blue Loan Services explains that at the moment rate markets are pretty much on hold until next week's Nonfarm Payrolls report is released. This important economic report will set the tone for mortgage rates to start off the year, but for the time being there has not been any motivation for rates to move much higher or lower than they had been just prior to January 1st. This means that, barring some unexpected event, rates are likely to stay in a very narrow range up until next week. For California mortgage borrowers, this could actually be a good thing.
The California mortgage company explains that 2014 mortgage rate forecasts predict rising rates at a steady pace throughout the year. Because of this, and other changes within the mortgage industry which will make securing a home loan more difficult for some, Blue Loan Services advises mortgage seekers to act quickly if they are ready to apply for a home loan. It is possible rates could dip slightly once the jobs report is released next week, but it is more likely that they will start the uphill climb which most are predicting will continue all year. Whatever the case, it would be wise for home loan borrowers to expect higher rates on the horizon and lock in today's low rates if they are within an acceptable range for them.
Blue Loan Services can help those who wish to lock in the current rates to find the best possible loans for their situation and work quickly to get approved so that they can avoid higher rates down the line. Their fast online loan application and documentation portal makes it simple for clients to submit their application and keep track of their loan's progress. With a reputation for fast, reliable and courteous service, the company's team of experienced loan officers can be especially useful during this time of rapidly changing mortgage rates.
For more information on how Blue Loan Services can help California home loan borrowers get approved for their home purchase loan or refinance quickly, please visit BlueLoanServices.com or call 1-888-929-BLUE (2583) to speak with an experienced mortgage professional.
CA Dept of Real Estate -- Licensed Broker #01094374 NMLS #938365