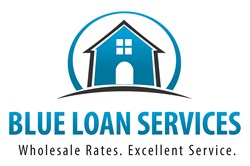 San Diego, CA (PRWEB) December 13, 2013
Blue Loan Services is a full service mortgage company that has been serving clients within California for many years. The Blue Loan Services team of mortgage professionals, headed by the father and son Robert and Brandon Blue, is dedicated to serving its clients with honesty, integrity and competence while offering a wide range of loan products, the lowest wholesale mortgage rates and the best closing costs and fees. The company knows that finding the right loan, at the right rate, can often help borrowers to save hundreds of thousands of dollars on their homes and this is the goal Blue Loan Services strives to attain each time a client utilizes their service. To do this, the company is continuously aware of any changes in the mortgage world that could affect loan availability and affordability to their clients. Now, with CA home loan rates back near the highest rates of the last few months, the company explains the situation and gives advice for mortgage seekers.
As the December 12th report from Mortgage News Daily states, "Mortgage rates moved higher again today, bringing them just shy of the highest rates of the past several months seen last Wednesday. The most prevalently quoted rate is still 4.625% for ideal, conforming 30yr Fixed scenarios (best-execution), meaning today's deterioration is seen in the form of higher closing costs or decreased lender credit. Freddie Mac's popular Primary Mortgage Market Survey today reported lower rates, week-over-week. While this is certainly possible considering the survey's Mon-Wed response time frame, it is no longer Mon-Wed. Rates were already on the rise yesterday, and in terms analogous to Freddie's, we're only 0.01% off the highest day of rates since September 17th."
Blue Loan Services explains that these new high rates bring an end to the surprising decrease in rates after last Friday's jobs report. Usually a strong NFP report would cause rates to rise. However since investors were prepared for the worst in the days leading up to the report, causing weakness in the MBS market, rates actually went down after the report which was not a lot stronger than expected in order to make up for this weakness. Now rates are going up again. Blue Loan Services points out that because of this new increase, and the fact that rates are projected to continue climbing into the new year, mortgage seekers who were not able to take advantage of the last few days' dip in rates should consider locking in today's low rates. This is because, while rates are certainly higher than they have been, they are also not as high as most predict they will be in the near future.
Blue Loan Services can help those who wish to lock in the current rates to find the lowest mortgage rates and the best possible loans for their situation and work quickly to get approved so that they can avoid higher rates down the line. Their fast online loan application and documentation portal makes it simple for clients to submit their application and keep track of their loan's progress. With a reputation for fast, reliable and courteous service, the company's team of experienced loan officers can be especially useful during this time of rapidly changing mortgage rates.
For more information on how Blue Loan Services can help California home loan borrowers get approved for their home purchase loan or refinance quickly, please visit BlueLoanServices.com or call 1-888-929-BLUE (2583) to speak with an experienced mortgage professional.
CA Dept of Real Estate -- Licensed Broker #01094374 NMLS #938365