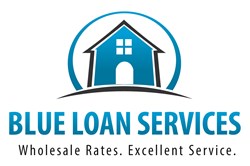 San Diego, CA (PRWEB) December 08, 2013
Blue Loan Services is a full service mortgage company that has proudly provided California home loan borrowers with the best wholesale home loan rates, the lowest fees and closing costs, and a wide range of loan products to suit their needs for many years. The company's team of mortgage professionals, headed by the father-son duo, Robert and Brandon Blue, has been dedicated to serving California residents with honesty, integrity and competence with the goal of providing the best possible mortgage products for their needs and the highest possible savings over the lives of their loans. The Blue Loan Services team keeps continuously vigilant of any changes in the finance and real estate industries which could affect the home loan rates or mortgage products available to their clients. With the much anticipated Jobs Report finally released, the company now comments on how the data has stacked up and why California mortgage affordability was surprisingly little affected.
First, a report from Mortgage News Daily posted on December 6th helps explain the situation. It says, "We've been discussing the past few days in the context of the Gorilla Analogy. (…..) At a glance, it said that bond traders were like refugees of a city that apparently came under attack by a giant gorilla. The city represented 'low rates' or bond-market positivity. The gorilla represented a potentially strong jobs report…" – "Now today, with private payrolls coming in only 16k higher than expected, the gorilla was just about as big as traders were prepared for. As such, we see 10yr yields 0.001 changed on the day. And then there's MBS, which have been battered and bruised of late, breathing a bigger sigh of relief this morning and actually crawling back into positive territory."
The reason that mortgage-backed securities (MBS) did slightly better, and thus rates are slightly lower, even though the Jobs report was strong is likely because investors were preparing for a report that showed much more growth than expected. Instead the report proved to be about as strong as was predicted, which has resulted in a little less tension in the mortgage market. However, while rates have not skyrocketed as some had feared, the real test comes in two weeks, when the Federal Reserve will use the information in this and other economic reports to decide on when they will start their bonds buying tapering. This more than anything else will likely affect how rates move this month.
But for California mortgage borrowers who are currently floating their rates, the slight "dip" could be a great opportunity to "lock" and save thousands of dollars on their loans. Also, those who have been juggling the idea of getting a loan at all might consider applying for one now and locking upon application in order to benefit from the lowered rates before they potentially increase in the coming weeks. Blue Loan Services can help those who wish to lock in the current rates to find the best possible loans for their situation and work quickly to get approved so that they can avoid higher rates down the line. Their fast online loan application and documentation portal makes it simple for clients to submit their application and keep track of their loan's progress. With a reputation for fast, reliable and courteous service, the company's team of experienced loan officers can be especially useful during this time of rapidly changing mortgage rates.
For more information on how Blue Loan Services can help California home loan borrowers get approved for their home purchase loan or refinance quickly, please visit BlueLoanServices.com or call 1-888-929-BLUE (2583) to speak with an experienced mortgage professional.
CA Dept of Real Estate -- Licensed Broker #01094374 NMLS #938365