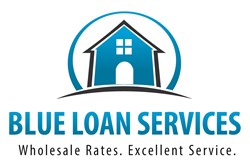 San Diego, CA (PRWEB) January 10, 2014
Blue Loan Services is a full service mortgage company that has been helping residents of California to find the best loan products and home loan rates for many years. The company, headed by the father and son team Robert and Brandon Blue, has been dedicated to serving its customers with honesty, integrity and competence. The Blue Loan Services team of mortgage professionals operates with the goal to provide home loans to its clients while providing them with the lowest interest rates and closing costs possible. The company also does its best to inform borrowers of any new developments which could affect their loan options or mortgage rate. Now, with mortgage rates climbing back up after a very short improvement, Blue Loan Services gives their assessment of the situation and gives some advice for California mortgage borrowers.
A January 8th report from Mortgage News Daily explains, "Mortgage rates moved higher today, perfectly erasing yesterday's solid gains on average. Movement continues to be only moderate in the big picture and hasn't yet affected the most prevalently-quoted rate of 4.625% for ideal, conforming 30yr Fixed loans (best-execution). That means both yesterday and today's moves would be in the form of closing costs for most borrowers. Today's weakness was priced in to the first rate sheets of the day following a stronger than expected employment report from ADP. While the upcoming Employment Situation report on Friday is the biggest consideration for rates, the ADP report is the most closely correlated early indicator. While this never guarantees the outcome of Friday's report, it can certainly nudge the forecast in one direction or the other, and that's enough for markets to trade on."
Blue Loan Services explains that while the increase is disappointing, it is not altogether unexpected. While the short dip in rates was a great opportunity for home loan borrowers, the fact remains that the mortgage rates forecast for 2014 predicts steadily rising rates throughout the year. Because of this, the mortgage company advises borrowers lock in their rates as soon as they can and lock on application if they do not currently have a loan pending. This is even more important now, since the Employment Situation report scheduled later today will likely follow in the ADP's footsteps, showing strong data. Stronger data equals weaker mortgage-backed-securities and this results in higher mortgage interest rates.
Those who are looking of the lowest mortgage interest rates should consider locking before today's jobs report is released. Blue Loan Services can help those who wish to lock in the current rates to find the best possible loans for their situation and work quickly to get approved so that they can avoid higher rates down the line. Their fast online loan application and documentation portal makes it simple for clients to submit their application and keep track of their loan's progress. With a reputation for fast, reliable and courteous service, the company's team of experienced loan officers can be especially useful during this time of rapidly changing mortgage rates.
For more information on how Blue Loan Services can help California home loan borrowers get approved for their home purchase loan or refinance quickly, please visit BlueLoanServices.com or call 1-888-929-BLUE (2583) to speak with an experienced mortgage professional.
CA Dept of Real Estate -- Licensed Broker #01094374 NMLS #938365