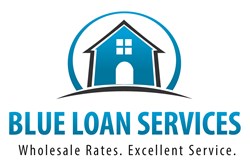 San Diego, CA (PRWEB) November 06, 2013
Blue Loan Services is a full service mortgage company that has been helping residents of California to find the best loan products and home loan rates for many years. The company, headed by the father and son team Robert and Brandon Blue, has been dedicated to serving its customers with honesty, integrity and competence. The Blue Loan Services team of mortgage professionals operates with the goal to provide home loans to its clients while providing them with the lowest wholesale interest rates and closing costs possible. These services have benefited hundreds of California home loan borrowers, allowing them to find the financing they need to get into the homes that they desire. With California mortgage interest rates stable for the time being, Blue Loan Services can help loan borrowers to find the most favorable home purchase and refinance rates and avoid possibly higher rates down the line.
A November 4th report from Mortgage News Daily says: "Mortgage rates were mostly flat today, though some lenders offered slightly improved rate sheets compared to Friday afternoon. The improvements would have been small enough to only be seen in the form of "closing costs" and/or lender credit, while the actual quoted interest rate between today and Friday would likely be the same. That means the most prevalent Conforming, 30yr Fixed quote (best-execution) remains at 4.25%. The bond markets that underlie and best inform mortgage rates had a calm, but agreeable day. There was a previously delayed report on Factory Orders added to the mix (along with the regularly scheduled Factory Orders report), but bonds didn't move on the news. That may change with tomorrow, as the scheduled data is more prone to causing movement."
Blue Loan Services points out that, as the above quote suggests, mortgage rates could change quickly depending on a number of factors, most notably the release of new economic data. Because of this it might be wise for borrowers who have not yet applied for a home loan to start seriously thinking about finding the best loan product and lender to finance or refinance their home with. While there is a chance that rates could go lower, they are already quite low, and the risk that they will jump up again quickly (which has happened several times already) could outweigh the benefits of waiting around for a potentially slightly lower rate.
Blue Loan Services can help those who are ready to apply for a loan to find the best possible loan products and the lowest rates and costs for their individual situations. The California mortgage company can help those who wish to lock in the current rates to find the right loan and work quickly to get approved so that they can avoid higher rates down the line. Their fast online loan application and documentation portal makes it simple for clients to submit their application and keep track of their loan's progress. With a reputation for fast, reliable and courteous service, the company's team of mortgage professionals can be especially useful during this time of rapidly changing mortgage rates.
For more information on how Blue Loan Services can help California home loan borrowers get approved for their home purchase loan or refinance quickly, please visit BlueLoanServices.com or call 1-888-929-BLUE (2583) to speak with an experienced mortgage professional.
CA Dept of Real Estate -- Licensed Broker #01094374 NMLS #938365