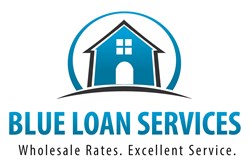 San Diego, CA (PRWEB) January 07, 2014
Blue Loan Services is a full service mortgage company that has proudly provided California home loan borrowers with the best wholesale home loan rates, the lowest fees and closing costs, and a wide range of loan products to suit their needs for many years. The company's team of mortgage professionals, headed by the father-son duo, Robert and Brandon Blue, has been dedicated to serving California residents with honesty, integrity and competence with the goal of providing the best possible mortgage products for their needs and the highest possible savings over the lives of their loans. The Blue Loan Services is also continuously seeking to keep their clients updated on any changes in the mortgage and finance industries which could affect their home loan options. Now, even with a number of important economic reports scheduled for this week, California mortgage interest rates are either unchanged or just slightly lower.
A January 6th report from Mortgage News Daily says, "Mortgage rates were flat to slightly lower today. Activity continued to ramp up following the holidays in the financial markets most directly connected to lenders' rate sheets, but that process will begin in earnest in the latter half of the week. The increasing levels of activity mean more potential movement in rates, which have been very close to unchanged throughout the holidays. 4.625% remains the most prevalently quoted rate for ideal, conforming 30yr Fixed loans (best-execution). Among the significant events for mortgage rates later this week, three stand out. Two of those are on Wednesday: ADP Employment and the Minutes from the most recent FOMC meeting. While ADP isn't the biggest employment report of the week, it does serve as an early indication for Friday's official numbers. Because it is released at 8:15am, it can have a noticeable effect on the very first rate sheets of the day."
MND also suggests that those who wish to avoid higher rates which could follow a strong employment report should lock in their rate as soon as they can, and Blue Loan Services concurs with this analysis. The mortgage company explains that the 2014 mortgage rates forecast is predicting rising rates all throughout the year, so any dip in rates should be seen as an opportunity for loan borrowers to save on their mortgage. Even a half point difference in rates could mean a considerable amount saved or spent on a loan, which is why it is important to look for these chances and seize them while rates are still relatively low.
Blue Loan Services can help those who wish to lock in the current rates to find the best possible loans for their situation and work quickly to get approved so that they can avoid higher rates down the line. Their fast online loan application and documentation portal makes it simple for clients to submit their application and keep track of their loan's progress. With a reputation for fast, reliable and courteous service, the company's team of experienced loan officers can be especially useful during this time of rapidly changing mortgage rates.
For more information on how Blue Loan Services can help California home loan borrowers get approved for their home purchase loan or refinance quickly, please visit BlueLoanServices.com or call 1-888-929-BLUE (2583) to speak with an experienced mortgage professional.
CA Dept of Real Estate -- Licensed Broker #01094374 NMLS #938365