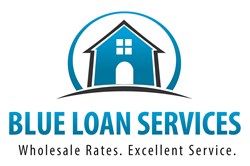 San Diego, CA (PRWEB) October 21, 2013
Blue Loan Services is a full service mortgage company that has been helping residents of California to find the best loan products and home loan rates for many years. The company, headed by the father and son team Robert and Brandon Blue, has been dedicated to serving its customers with honesty, integrity and competence. The Blue Loan Services team of mortgage professionals operates with the goal to provide home loans to its clients while providing them with the lowest interest rates and closing costs possible. The uncertainty about mortgage rates recently has made for a difficult situation for home loan borrowers who are not sure whether to lock in their rates or float. But hopefully rates will become more predictable now that the shutdown is over. In fact, California mortgage rates are down after the debt deal and while the change was slight it can still be a good opportunity for mortgage borrowers.
This is good news for many CA residents who have been putting off their home loan plans due to the somewhat higher rates of the last few weeks. However, the moderate decrease in rates after the deal was reached might not last for long, Blue Loan Services warns. While the resolution to the fiscal drama has helped improve rates, the real test will come when the Employment Report is finally released. An article from Mortgage News Daily, which was posted on October 17th says of the decrease:
"Mortgage rates fell significantly today, returning in line with the lowest levels seen in recent weeks for some lenders. Not every lender experienced the improvement in the same way, however, with some still not back to last week's best offerings. Whatever the case, the average top-tier Conforming 30yr fixed rate is back to 4.25% (best-execution). Interestingly enough, the most comparable day for rate sheets is just before the start of the government shutdown."
The same article goes on to say: "While it's nice to see rates back at their recent lows, none of the above guarantees a prolonged move just yet. One thing that was true before the shutdown continues to be true now: markets need to see the economic data before they know how to plan for changes in Fed policy! We now know that the important Employment Situation Report will be released on Tuesday, and we can continue to assume this will be the biggest real source of motivation for rates in the near term. Until then, we're right back where we started, with rates locked in a narrow range, waiting on data (though they're at the lower end of that range right now)."
Because of this situation, and the risk of much higher rates if economic data comes back strong, Blue Loan Services advises their clients to float warily, if at all. Today's mortgage rates are still comparatively low, and with Blue Loan Services wholesale prices California residents are guaranteed to get the best deal. The California mortgage company can help those who wish to lock in the current rates to find the best possible loans for their situation and work quickly to get approved so that they can avoid higher rates down the line. Their fast online loan application and documentation portal makes it simple for clients to submit their application and keep track of their loan's progress. With a reputation for fast, reliable and courteous service, the company's team of mortgage professionals can be especially useful during this time of rapidly changing mortgage rates.
For more information on how Blue Loan Services can help California home loan borrowers get approved for their home purchase loan or refinance quickly, please visit BlueLoanServices.com or call 1-888-929-BLUE (2583) to speak with an experienced mortgage professional.
CA Dept of Real Estate -- Licensed Broker #01094374 NMLS #938365