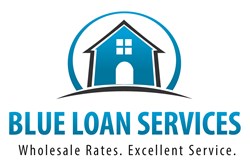 San Diego, CA (PRWEB) November 29, 2013
Blue Loan Services is a full service mortgage company that has been helping residents of California to find the best loan products and home loan rates for many years. The company, headed by the father and son team Robert and Brandon Blue, has been dedicated to serve its customers with honesty, integrity and competence. The Blue Loan Services team of mortgage professionals operates with the goal to provide home loans to its clients while providing them with the lowest interest rates and closing costs possible. The mortgage company does this by constantly staying informed of any changes in the mortgage and real estate industry, especially any changes that could affect California mortgage rates. Now, with the recent news that rates have been rising thanks to a pre-Thanksgiving sell-off, many borrowers may be wondering what the future holds for mortgage rates and what they should do if they are near closing and want to get the best possible rate.
As was reported in a November 27th report by Mortgage News Daily: "In homage to 2012, we have a fairly substantial Thanksgiving sell-off on our hands. For what it's worth, the substantial Thanksgiving sell-off of 2012 ended up looking very much like a holiday-related blip and rates returned to their best pre-Thanksgiving levels by December 6th. While that past performance is no guarantee of future results, it is a good reminder that these sorts of things can and do happen (super light liquidity heading into holiday weekends making it easy for prices to slide farther than they otherwise might)."
So what should California borrowers take away from this information? Blue Loan Services notes that, while there is a chance that rates could recover by December, this is only something that borrowers can hope for but should not count on. Those who are on the fence about whether they should lock in their mortgage rates now or not should consider whether or not current mortgage rates fall into an acceptable range for their needs. If they do, it might be wiser for these borrowers to lock in the current rates rather than wait to see if rates will get any better after the long weekend. Those who choose the option to float their rates should do so cautiously and look out for any signs that could cause mortgage rates to increase further.
However the borrower decides Blue Loan Services is there to assist. The team of experienced mortgage professionals will ensure that their clients have the right loan product for their needs and the lowest rates available at the time that they decide to lock in their rates. With a fast and easy loan process, made possible by Blue Loan Services' online loan application and documentation portal, those who wish to lock in quickly will have the best chances of getting in on today's low rates.
For more information on how Blue Loan Services can help California home loan borrowers get approved for their home purchase loans or refinances quickly, please visit BlueLoanServices.com or call 1-888-929-BLUE (2583) to speak with an experienced mortgage professional.
CA Dept of Real Estate -- Licensed Broker #01094374 NMLS #938365