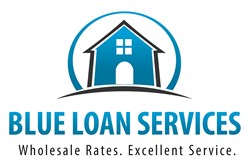 San Diego, CA (PRWEB) November 04, 2013
Blue Loan Services is a full service mortgage company that has been helping residents of California to find the best loan products and home loan rates for many years. The company, headed by the father and son team Robert and Brandon Blue, has been dedicated to serving its customers with honesty, integrity and competence. The Blue Loan Services team of mortgage professionals operates with the goal to provide home loans to its clients while providing them with the lowest wholesale interest rates and closing costs possible. The company also comments on current mortgage news to help keep their clients up to date on any major changes in the real estate industry. In recent news, California mortgage rates moved higher, breaking the trend of decreasing or relatively unchanged rates of the past few weeks.
An October 31st report from Mortgage News Daily says: "After 5 straight days of almost no change on average, mortgage rates finally made a move today. Unfortunately, it wasn't in the direction that most would hope. On a positive note, the deterioration was only seen in the "cost" side of the equation, meaning that you'd likely be quoted the same rate as yesterday afternoon, but with slightly higher closing costs (or lower lender credit, depending on your scenario). As such the most prevalent Conforming 30yr fixed rate (best-execution) remains at 4.125%. Today's weakness was almost exclusively a factor of one surprisingly strong piece of economic data."
The article goes on to explain: "In today's case, it was the Institute for Supply Management of Chicago with their monthly Purchasing Manager's Index (or "Chicago PMI" for short) that shook things up. This is a survey of business conditions in the Chicago area, which has proven to be similar enough in composition and economic trends to the entire nation that it has become a well-regarded report. The problem for mortgage rates is that this well-regarded report moved a whole lot more than it normally does. In fact, this was the biggest jump in over 30 years. Until that point in the day, rates looked poised to drop a bit, but the stronger economic data caused bond markets to weaken, meaning prices fell and rates rose."
Blue Loan Services points out that this news goes to show just how easily mortgage rates are affected, even by indicators which are not often thought of as having an overly great impact on them. The move higher was not devastating, but it will probably give some second thoughts about waiting too long to apply for a home loan and lock in current rates. Blue Loan Services can help those who are ready to apply for a loan to find the best possible loan products and the lowest rates and costs for their individual situations.
The California mortgage company can help those who wish to lock in the current rates to find the right loan and work quickly to get approved so that they can avoid higher rates down the line. Their fast online loan application and documentation portal makes it simple for clients to submit their application and keep track of their loan's progress. With a reputation for fast, reliable and courteous service, the company's team of mortgage professionals can be especially useful during this time of rapidly changing mortgage rates.
For more information on how Blue Loan Services can help California home loan borrowers get approved for their home purchase loan or refinance quickly, please visit BlueLoanServices.com or call 1-888-929-BLUE (2583) to speak with an experienced mortgage professional.
CA Dept of Real Estate -- Licensed Broker #01094374 NMLS #938365