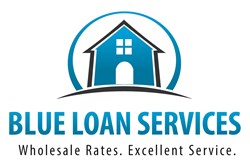 San Diego, CA (PRWEB) August 29, 2013
Blue Loan Services is a full service mortgage company that has been helping residents of California to find the best loan products and home loan rates for many years. The company, headed by the father and son team Robert and Brandon Blue, has been dedicated to serving its customers with honesty, integrity and competence. The Blue Loan Services team of mortgage professionals operates with the goal to provide home loans to its clients while providing them with the lowest interest rates and closing costs possible. The company also offers advice to borrowers on what to make of current mortgage news. With ever increasing mortgage rates the past three months many home loan borrowers have been struggling to lock in favorable rates. However current events open the possibility that some California mortgage rate relief will be experienced.
The initial increases in rates have been tied into speculation on when the Federal Reserve will decide to start tapering off their bonds buying program. Cessation of this program would increase rates, as the program has until now been keeping these rates down to encourage consumer spending. Blue Loan Services reports on the situation: "The drastic mortgage rate increases that are affecting California and the rest of the nation are the result of a comment made last June by Benjamin Bernanke, the chairmen of the Federal Reserve, which implied that if the economy continues to make steady progress the Fed would start to taper off their asset purchases which have been keeping interest rates low to encourage consumer spending. This announcement was followed by one of the fastest increases in mortgage rates in history, made even more upsetting since home loan rates were previously near record lows."
While rates were expected to continue climbing given that economic reports have not shown that the economy is in a sufficiently bad state that would warrant a continued bonds buying program, and this would mean the Fed would likely proceed with their plans to cut back their spending, the past few days have shown an unexpected drop in rates which is good news for those who are looking for a home or refinance loan. An article posted this August 27th on Mortgage News Daily says:
"Mortgage rates hit their lowest levels in nearly two weeks today. Conventional 30yr Fixed quotes for the most ideal scenarios (best-execution) are back down around 4.5% for some lenders and remain at 4.625% for many others. The most visible, mainstream explanation for the move is the geopolitical risk surrounding Syria and the effect global markets. Such risk can indeed motivate a "flight to safety" where investor demand tends to shift toward the least-risky assets like US Treasuries and out of more risky assets like stocks."
While the whole story is quite a bit more complex, the gist of it is that the geopolitical turmoil has been the main catalyst in the move downwards. These lower rates could be fleeting, however, especially if the jobs report which will be released next week shows improvement, signaling that the Fed would likely continue with their plans to draw their program to a close.
For the meantime, however, the lower rates are a fantastic opportunity for any homeowner or potential homeowner that has been looking for the best deals. Blue Loan Services' advice for these borrowers is to lock in as soon as possible in order to grab these rates because, while it is possible rates could continue to float downward, there is also a great chance that they could increase rapidly yet again. Another quote from the above mentioned article says: "Keep in mind we are in the midst of a rising rate environment and any dips should be an opportunity to alleviate risk of potential losses."
Blue Loan Services can help California residents to avail of these lower rates thanks to their fast online loan finding tools as well as the streamlined application and loan processing system. With a reputation for fast, reliable and courteous service, the company's team of mortgage professionals can be especially useful during this time of rapidly changing mortgage rates.
For more information on how Blue Loan Services can help home loan borrowers get approved for their home purchase loan or refinance quickly, please visit BlueLoanServices.com or call 1-888-929-BLUE (2583) to speak with an experienced mortgage professional.
CA Dept of Real Estate -- Licensed Broker #01094374 NMLS #938365