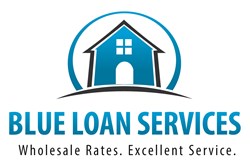 San Diego, CA (PRWEB) December 24, 2013
Blue Loan Services is a full service mortgage company that has been providing the residents of California with the best loan products and the lowest wholesale rates and fees for many years. The company, which is headed by father and son team, Robert and Brandon Blue, is dedicated to serving its clients with honesty, integrity and competence. The company also helps their clients by keeping them abreast of any new developments in the finance and real estate industries that could affect mortgage availability or affordability. Now, as California mortgage rates rise to new three month highs, Blue Loan Services takes a look at the surrounding factors and gives advice to borrowers on how to find the best mortgage loan at this time.
A December 24th report from Mortgage News Daily states, "Mortgage rates rose to new 3-Month Highs today as bond market weakness (read: higher rates) is magnified by holiday trading conditions. In other words, there are far fewer MBS (mortgage-backed-securities, which directly affect rates) being traded this time of year, so if there is an imbalance toward strength or weakness, it tends to have a bigger effect on lender rate sheets. In the current case, that imbalance favors higher rates. In addition, lenders typically err on the side of caution (read: higher rates) during this time of year, regardless of bond market movement. That doesn't mean they'll always raise rates in December, simply that rates are set just a bit higher than they otherwise would be during more active trading. The combination of the market weakness and lender defensiveness made for new 3 month highs."
Blue Loan Services explains that the most prevalent quoted rate for 30 year fixed mortgages is around 4.62% for ideal situations, which makes it the closest its been to the 4.75% landmark since September. However, there is a chance that rates will dip a bit after more traders return from their holidays and the market sees more participation. Because of this, Blue Loan Services suggests that those who are not in a rush to close on a loan might want to float their rate for a bit in order to see if rates will return to lower levels after the Christmas-shortened week is finished. The mortgage company notes, however, that rates are moving up in the long run, regardless of whether there are slight dips along the way, meaning that those who wish to lock in today's mortgage rates should feel free to do so.
Blue Loan Services can help those who wish to lock in today's low rates to find the best possible loans for their situation and work quickly to get approved so that they can avoid higher rates down the line. Their fast online loan application and documentation portal makes it simple for clients to submit their application and keep track of their loan's progress. With a reputation for fast, reliable and courteous service, the company's team of experienced loan officers can be especially useful during this time of rapidly changing mortgage rates.
For more information on how Blue Loan Services can help California home loan borrowers get approved for their home purchase loan or refinance quickly, please visit BlueLoanServices.com or call 1-888-929-BLUE (2583) to speak with an experienced mortgage professional.
CA Dept of Real Estate -- Licensed Broker #01094374 NMLS #938365