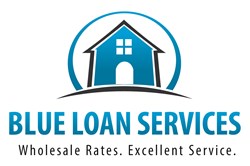 San Diego, CA (PRWEB) October 19, 2013
Blue Loan Services is a full service mortgage company that has been helping residents of California to find the best loan products and home loan rates for many years. The company, headed by the father and son team Robert and Brandon Blue, has been dedicated to serving its customers with honesty, integrity and competence. The Blue Loan Services team of mortgage professionals operates with the goal to provide home loans to its clients while providing them with the lowest interest rates and closing costs possible. Now, with California mortgage rates rising and expectations that they will go even higher once the shutdown is resolved, Blue Loan Services seeks to help home loan borrowers to find the best refinance terms for their situations while rates are still reasonably low.
As a report from Mortgage News Daily, which was posted this October 15th, says: "Mortgage rates rose moderately today, bringing them to their highest levels since September 23rd. Though the recent move higher has happened very gradually, it's also been fairly determined with none of the past five sessions seeing a move lower. Today's incremental dose of weakness was notable in that it was finally enough to unequivocally nudge 30yr fixed best-execution back up to 4.375%, though buying down to 4.25% continues to make sense for some scenarios depending on personal preference. Last week, we'd increasingly noted that rates had no incentive to move any lower without market participants getting their hands on the important Employment Situation Report--the most important piece of economic data each month and recently postponed due to the shutdown."
There is no telling what post-shutdown interest rates might look like, but chances are that rates will continue to get higher as uncertainty continues about whether the government will continue the stimulus program which has been artificially keeping rates down. Because of this, it would be wise for those who have been planning to refinance their homes to consider doing this as soon as possible. Blue Loan Services has specialized in providing the best refinance products and the lowest possible rates to California homeowners for many years. A client from Santa Clara, CA, who recently closed a refinance loan with the mortgage company, says in their review:
"Great experience! After a frustratingly disastrous attempt to refinance through our then existing mortgage company I was referred to Brandon by a coworker. Brandon assured me that the process needn't be so unpleasant and we quickly got started--and it couldn't have gone smoother. Every question I had was quickly answered and he and his team were there to help every step of the way."
For more information on how Blue Loan Services can help California home loan borrowers get approved for their home purchase loan or refinance quickly, please visit BlueLoanServices.com or call 1-888-929-BLUE (2583) to speak with an experienced mortgage professional.
CA Dept of Real Estate -- Licensed Broker #01094374 NMLS #938365