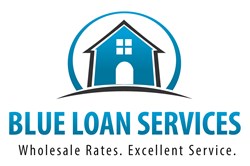 San Diego, CA (PRWEB) October 08, 2013
Blue Loan Services is a full service mortgage company that has been helping residents of California to find the best loan products and home loan rates for many years. The company, headed by the father and son team Robert and Brandon Blue, has been dedicated to serving its customers with honesty, integrity and competence. The Blue Loan Services team of mortgage professionals operates with the goal to provide home loans to its clients while providing them with the lowest interest rates and closing costs possible. The company also offers advice to borrowers on what to make of current mortgage news. With the government shutdown now entering its second week, there are many home loan borrowers that are undoubtedly worried about how this will affect the real estate industry and mortgage interest rates in particular. The good news is, despite the shutdown, California mortgage rates remain stable for the time being, so there is still time for CA home loan borrowers to find the best home purchase and refinance loans for their situations.
Blue Loan Services can help these borrowers to find and lock in the best rates for their loans and avoid any confusion a prolonged shutdown would likely have on the mortgage industry. For the time being, the shutdown itself is not worrying those in the business too much; however economic reports that have been delayed due to the shutdown could have a more noticeable impact. As a recent article from Mortgage News Daily, which was posted this October 3rd, says:
"Mortgage rates were relatively unchanged again today, marking the 5th day in a row near current levels. If there's a bias, it has been modestly lower, but only just. This means that some lenders put out their best rate sheets of the past three months, though others were actually a bit higher than yesterday. Overall, the movement hasn't been remotely close to challenging the current best-execution rate of 4.25% for conforming, 30yr fixed loans. Yesterday's analysis pointed out that bond markets (which speak to mortgage rate movements) were much more interested in the Employment Situation Report than the government shutdown spectacle. Today offered further proof of that as traders opted to make their biggest trades of the week after an important report on the services sector (ISM Non-Manufacturing, which includes a widely-tracked "employment index")."
Because there is no new data available right now, it is impossible to tell whether interest rates will go up or down, so many borrowers have decided to lock in the current rates rather than risk a possible increase if the reports (when finally released) show strong evidence of economic growth. Today's rates are still very reasonable, and much lower than what was available a year or more ago, so it is not surprising that many home loan borrowers are content with locking in current rates rather than waiting for a conclusion to the shutdown. Blue Loan Services can help those who wish to lock in the current rates to find the best possible loans for their situation and work quickly to get approved so that they can avoid higher rates down the line. Their fast online loan application and documentation portal makes it simple for clients to submit their application and keep track of their loan's progress. With a reputation for fast, reliable and courteous service, the company's team of mortgage professionals can be especially useful during this time of uncertain mortgage rates predictions.
For more information on how Blue Loan Services can help California home loan borrowers get approved for their home purchase loan or refinance quickly, please visit BlueLoanServices.com or call 1-888-929-BLUE (2583) to speak with an experienced mortgage professional.
CA Dept of Real Estate -- Licensed Broker #01094374 NMLS #938365