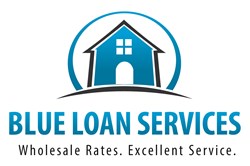 San Diego, CA (PRWEB) October 29, 2013
Blue Loan Services is a full service mortgage company that has been helping residents of California to find the best loan products and home loan rates for many years. The company, headed by the father and son team Robert and Brandon Blue, has been dedicated to serving its customers with honesty, integrity and competence. The Blue Loan Services team of mortgage professionals operates with the goal to provide home loans to its clients while providing them with the lowest wholesale interest rates and closing costs possible. Now, with CA mortgage rates consistently lower after the debt ceiling resolution, more California home loan borrowers are looking at their options and whether it is the right time to take out a new home loan in order to take advantage of the low rates.
As an October 25th report from Mortgage News Daily says: "Mortgage rates held steady yet again, ending their second week of significant improvement and contributing to what may soon be the first 2-month stretch of improvement since the Spring of 2012. Some lenders' rate sheets were slightly weaker today while others improved. The net effect was an unchanged 30yr fixed rate of 4.125% (best-execution), on average for ideal scenarios, with the day-over-day changes being seen in the form of higher or lower closing costs."
The same article explains: "Even in broader bond markets, the last few days have been a break in the recent action driven by the debt-ceiling resolution and Tuesday's Employment situation report. The employment data continues to be the biggest consideration for interest rates, though we can't yet be sure what kind of reaction we'll see to the rest of the economic data that's returning next week after taking time off during the shutdown. Whatever ends up happening, bond markets are currently moving as if they entertain the possibility of further improvement (i.e. "lower rates"). That doesn't mean we're heading to lower rates all things being equal, but it does mean that bond traders are trading like they'd entertain that possibility if the economic data suggests it. That's the first time such a thing can be said in roughly five months."
Obviously, many people who have put off their home loan plans due to the higher rates of the past few months would like to jump at this opportunity to lock in low rates. While this is a good idea for most, since there is no guarantee that rates will remain at these low levels, it is important for these borrowers to take the time to research their options to ensure that they get the best loan product for their situation, that fits their budgets and needs and saves them the greatest amount over the course of the loan.
Blue Loan Services can help those who wish to lock in the current rates to find the best possible loans for their situation and work quickly to get approved so that they can avoid higher rates down the line. Their fast online loan application and documentation portal makes it simple for clients to submit their application and keep track of their loan's progress. With a reputation for fast, reliable and courteous service, the company's team of mortgage professionals can be especially useful during this time of rapidly changing mortgage rates.
For more information on how Blue Loan Services can help California home loan borrowers get approved for their home purchase loan or refinance quickly, please visit BlueLoanServices.com or call 1-888-929-BLUE (2583) to speak with an experienced mortgage professional.
CA Dept of Real Estate -- Licensed Broker #01094374 NMLS #938365