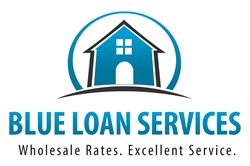 San Diego, CA (PRWEB) November 03, 2013
Blue Loan Services is a full service mortgage company that has been helping residents of California to find the best loan products and home loan rates for many years. The company, headed by the father and son team Robert and Brandon Blue, has been dedicated to serving its customers with honesty, integrity and competence. The Blue Loan Services team of mortgage professionals operates with the goal to provide home loans to its clients while providing them with the lowest wholesale interest rates and closing costs possible. The company also comments on current mortgage news to help keep their clients up to date on any major changes in the real estate industry. Recent news has reported a slight increase in California mortgage rates, which had been going down over the past few weeks. While the increase was slight, it could be a sign of a turn around for rates, and thus Blue Loan Services seeks to give advice for those who would like to lock in current rates which are still quite low.
An October 30th report from Mortgage News Daily says: "Mortgage rates began the day lower, with several lenders releasing their best rate sheets in nearly 5 months. The day progressed well in the secondary mortgage market with MBS prices (the "mortgage backed securities" that most directly affect rates) rising steadily into the Federal Reserve's policy announcement. When MBS prices move higher, rates move lower. The Fed wasn't seen as likely to change monetary policy in any way at this meeting, but market participants may have justifiably been expecting a more cautious tone than they got. The Fed even removed verbiage alluding to the risks associated with recently tight financial conditions. Bond markets, including MBS, weakened quickly following the announcement, and many lenders revised rate sheets to fall more in line with yesterday's."
So how should mortgage borrowers proceed given this information? Those who have been waiting for low rates to make their move when it comes to applying for a home loan should be careful not to wait too long. While the move in interest rates was slight, it could a sign of things to come and waiting to lock in a loan rate out of hope that rates will get lower is always a risk. Because of this Blue Loan Services advises borrowers to weigh their risks wisely and if they do decide to apply for a loan, to so as soon as they can.
Today's mortgage rates are still comparatively low, and with Blue Loan Services wholesale prices California residents are guaranteed to get the best deal. The California mortgage company can help those who wish to lock in the current rates to find the best possible loans for their situation and work quickly to get approved so that they can avoid higher rates down the line. Their fast online loan application and documentation portal makes it simple for clients to submit their application and keep track of their loan's progress. With a reputation for fast, reliable and courteous service, the company's team of mortgage professionals can be especially useful during this time of rapidly changing mortgage rates.
For more information on how Blue Loan Services can help California home loan borrowers get approved for their home purchase loan or refinance quickly, please visit BlueLoanServices.com or call 1-888-929-BLUE (2583) to speak with an experienced mortgage professional.
CA Dept of Real Estate -- Licensed Broker #01094374 NMLS #938365