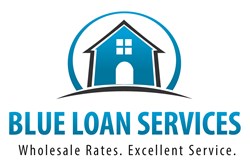 San Diego, CA (PRWEB) December 11, 2013
The Blue Loan Services team of mortgage professionals, headed by father and son, Robert and Brandon Blue, has been assisting California mortgage borrowers for many years. As a full service mortgage company Blue Loan Services prides itself on offering the top loan products, the best wholesale mortgage rates and the lowest closing costs and fees while serving its clients with honesty integrity and competence. The Blue Loan Services team keeps continuously vigilant of any changes in the finance and real estate industries which could affect the home loan rates or mortgage products available to their clients. Now, with California mortgage rates down to their lowest levels in December thus far, Blue Loan Services provides some info for mortgage borrowers who are on the verge of closing their loans or have yet to apply for a home loan.
As a December 10th report from Mortgage News Daily states: "Mortgage rates moved slightly lower again today, bringing them back in line with the lowest levels of the month. Recent improvements are somewhat of a paradox as rates typically move higher after stronger payrolls data, which we saw on Friday. This time around, rates had been moving higher for the entire month of November and into early December. With the risk that last Friday's jobs report could have done more to suggest the Fed reduce asset purchases this month, rates were arguably stretched to their near-term defensive limit. In other words, rates were set up slightly higher than they otherwise would have been. Although the report was better than expected, it wasn't by much. It left only 15% of economists foreseeing a December reduction in Fed asset purchases whereas interest rates were prepared for more of a threat."
As the above quote states, rates have been going down in response to conjecture from many industry professionals that the Federal Reserve will put off tapering for the time being. Blue Loan Services states that this is great news for California home loan borrowers. These low rates can make for a great opportunity for those who have been considering applying for a loan, or who are currently going through the loan approval process and have not locked in their rate yet. The mortgage company also warns those who are thinking about floating their rate, in hopes that rates will sink even lower, that they should only do so with caution and a close eye on changes in the mortgage and finance industries.
Today's low rates are an unexpected boon for borrowers, but while the Fed may decide to put off tapering till early 2014, the inevitable will eventually happen and future borrowers will have to accept the higher rates that will follow. Blue Loan Services can help those who wish to lock in the current rates to find the best possible loans for their situation and work quickly to get approved so that they can avoid higher rates down the line. Their fast online loan application and documentation portal makes it simple for clients to submit their application and keep track of their loan's progress. With a reputation for fast, reliable and courteous service, the company's team of experienced loan officers can be especially useful during this time of rapidly changing mortgage rates.
For more information on how Blue Loan Services can help California home loan borrowers get approved for their home purchase loan or refinance quickly, please visit BlueLoanServices.com or call 1-888-929-BLUE (2583) to speak with an experienced mortgage professional.
CA Dept of Real Estate -- Licensed Broker #01094374 NMLS #938365