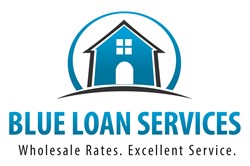 San Diego, CA (PRWEB) December 15, 2013
Blue Loan Services is a full service mortgage company that has been providing California home loan borrowers with the best wholesale home purchase and refinance rates, as well as access to the most trusted California mortgage lenders and specialized loan products for many years. The company's website offers a number of tools that homeowners and home buyers can use to find the best mortgage scenarios for their unique financial situations and lifestyles, as well as news on the latest mortgage trends and other stories that affect mortgage rates and home prices. Now, with California mortgage rates slowing down due to MBS exhaustion in anticipation of Wednesday's all important FOMC meeting, Blue Loan Services gives some advice to borrowers who are not sure how to proceed with their home loan plans.
A December 13th report from Mortgage News Daily confirms, ""Exhaustion" was the theme of this morning's commentary, and today's price action is confirming that. One of the byproducts of exhaustion is a sort of stubborn unwillingness to stray too far from recent trading levels without significant motivation. Unless something utterly surprising were to happen, the only significant motivation on the horizon is next week's FOMC Announcement. Today's movements in MBS and Treasuries so far have both been characterized by "triangles" with higher lows and lower highs. These are currently pointing smack dab toward the center of yesterday's range. Pretty boring, but as always, you can never fully expect trading levels to stay boring in financial markets, even if it looks quite likely."
Blue Loan Services explains that Mortgage-backed Securities (MBS) are directly related to mortgage rates. The higher MBS prices go, the lower mortgage rates will fall. And the reverse is true as well – the lower MBS prices fall, the higher rates will get. MBS prices have been going up and down at an alarming rate because of speculation about when the Federal Reserve will start tapering their bonds purchases, which have been part of a program that has kept MBS rates high and mortgage rates low. Most experts do not think that the Fed will move to start tapering until March next year, but there is a slight chance that this could happen this December, which would cause mortgage rates to get much higher. This decision will be made at the FOMC meeting this Wednesday. Until then, mortgage-backed securities and mortgage interest rates are predicted to be more or less flat.
The California mortgage company explains that this brief lull before the big show on Wednesday could be a good opportunity for mortgage seekers who were not able to take advantage of last week's few days of lower interest rates. While rates have gone up slightly since then, they are still in a reasonable range for most home loan borrowers, and this may not be the case after the FOMC meeting. Because of this, Blue Loan Services advises borrowers to consider locking in today's low mortgage rates, or if they do decide to wait to do so very carefully, with a close eye on any market developments.
Blue Loan Services can help those who wish to lock in the current rates to find the best possible loans for their situation and work quickly to get approved so that they can avoid higher rates down the line. Their fast online loan application and documentation portal makes it simple for clients to submit their application and keep track of their loan's progress. With a reputation for fast, reliable and courteous service, the company's team of experienced loan officers can be especially useful during this time of rapidly changing mortgage rates.
For more information on how Blue Loan Services can help California home loan borrowers get approved for their home purchase loan or refinance quickly, please visit BlueLoanServices.com or call 1-888-929-BLUE (2583) to speak with an experienced mortgage professional.
CA Dept of Real Estate -- Licensed Broker #01094374 NMLS #938365