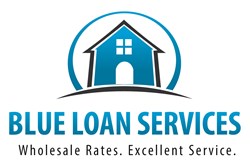 San Diego, CA (PRWEB) December 18, 2013
Blue Loan Services has been offering the best refinance rates and the lowest mortgage payments to California home buyers and owners for many years. The company, which is headed by father and son team Robert and Brandon Blue, strives to keep its clients needs met by providing the best rates and closing costs, a wide variety of loan products, connections to the top real estate agents and lenders in California and top notch customer service. The Blue Loan Services team of mortgage professionals is also constantly updating their clients on any changes in the mortgage and finance markets which could affect their loan options. Now, with California mortgage rates eerily flat before today's FOMC meeting, the mortgage company reviews the current situation and gives some loan advice for mortgage seekers.
As a December 17th report from Mortgage News Daily explains, "Mortgage rates remained at the same level for the 4th consecutive day despite some movement in MBS (the "mortgage-backed securities" that most directly affect rates). 4.625% remains the most prevalently quoted rate for ideal, conforming 30yr Fixed scenarios (best-execution). Some lenders are well-enough priced that 4.5% is available, but it should be noted that most lenders currently have big buydowns to move lower in rate right now (meaning it can cost nearly 1% of the loan amount to drop the rate by .125%). On top of the generally quiet market conditions, lenders have been hesitant to make any changes ahead of tomorrow's very important announcement from the Fed. Polls suggest a roughly 1 in 3 chance that Fed will announce the first reduction in QE3 asset purchases, something that would likely have a major impact on rates."
Blue Loan Services explains that the reason that mortgage interest rates are so flat right now is because the mortgage market is basically holding its breath until everyone finds out how the Federal Reserve will decide on their bonds purchases. This is very important, because so far these purchases have been keeping long term interest rates artificially low. This changed somewhat this June, when it was let out that Fed purchases would start tapering off, possibly within the year. Panic led to increased interest rates, but this leveled out when the Fed reassured the public that tapering would likely only happen if the economy showed enough recovery. Strong economic reports over the past few months have shown growing strength, and this is the reason that some believe the Fed will choose to start cutting back on their bonds buying program the month.
However, others feel that this will not happen until March next year. Blue Loan Services points out that, whatever the Fed's decision, rates are headed up in the long run. The Fed cannot continue their program indefinitely, and once they start cutting back mortgage interest rates will start to rise. Because of this, the company believes that those who want the best mortgage interest rates should seriously consider finding the right home loan and locking in their rates as soon as they can.
Blue Loan Services can help those who wish to lock in the current rates to find the best possible loans for their situation and work quickly to get approved so that they can avoid higher rates down the line. Their fast online loan application and documentation portal makes it simple for clients to submit their application and keep track of their loan's progress. With a reputation for fast, reliable and courteous service, the company's team of experienced loan officers can be especially useful during this time of rapidly changing mortgage rates.
For more information on how Blue Loan Services can help California home loan borrowers get approved for their home purchase loan or refinance quickly, please visit BlueLoanServices.com or call 1-888-929-BLUE (2583) to speak with an experienced mortgage professional.
CA Dept of Real Estate -- Licensed Broker #01094374 NMLS #938365