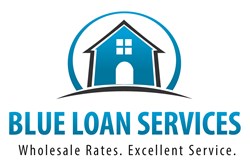 San Diego, CA (PRWEB) December 23, 2013
Blue Loan Services is a full service mortgage company run by father-son team, Robert and Brandon Blue. The Blue Loan Services team of mortgage professionals is dedicated to providing the best loan products and the lowest wholesale rates and fees. They have been meeting the real estate finance needs of California home loan borrowers with honesty, integrity and competence for many years. The company also offers continual updates to their clients on any developments that could affect their loan availability or mortgage rate. Now, with Christmas just days away, Blue Loan Services talks about what borrowers can expect out of California mortgage rates in the week ahead.
A report posted today on Mortgage News Daily explains, "Of all the holiday weeks of any given year, this one has the biggest effect on market participation. Trading activity will almost certainly be exceptionally light. While this doesn't have any particular connotation for volatility (indeed, light volume can even encourage volatility) it does mean that we shouldn't be as willing to read long term significance into the movement."
The article also says, "The most likely scenario is for markets to go through the motions this week and maybe engage in some year-end position squaring on Monday and Tuesday. Position-squaring can be thought of as a bevy of bar-goers who've spent the whole night buying each other drinks on tabs finally settling the tabs, figuring out who owes who how much, and heading home. In the trading world, position-squaring is a market-mover unto itself, and an extra potent one on light holiday weeks around the end of the year."
Blue Loan Services explains that volatility in the Mortgage Backed Savings market would affect mortgage rates, pushing them upward. However, as is noted in the quotes above, volatility is possible but not expected, and even if this does happen, it is not likely to affect long term mortgage rate projections. But what does this mean for those who are near to closing on a loan, or those who are ready to apply for a loan now?
Because there is not a good chance that rates will go down anytime soon, it is always the best idea to lock if today's low rates are within an acceptable range for the borrower. However, any volatility this week resulting in sharp increase in rates will likely level out, meaning that if rates go up this week borrowers will probably want to float and ride it out. That being said, rates are going upward in the long run, so barring any untoward event, it could be a better idea to settle for current rates which are still within a good range for most borrowers.
Blue Loan Services can help those who wish to lock in the current rates to find the best possible loans for their situation and work quickly to get approved so that they can avoid higher rates down the line. Their fast online loan application and documentation portal makes it simple for clients to submit their application and keep track of their loan's progress. With a reputation for fast, reliable and courteous service, the company's team of experienced loan officers can be especially useful during this time of rapidly changing mortgage rates.
For more information on how Blue Loan Services can help California home loan borrowers get approved for their home purchase loan or refinance quickly, please visit BlueLoanServices.com or call 1-888-929-BLUE (2583) to speak with an experienced mortgage professional.
CA Dept of Real Estate -- Licensed Broker #01094374 NMLS #938365