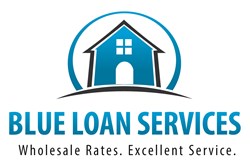 San Diego, CA (PRWEB) January 06, 2014
Blue Loan Services, a California full service mortgage company run by father and son team, Robert and Brandon Blue, has been providing the best home loan products and wholesale rates and fees to California residents for many years. The company strives to serve its clients with professionalism, honesty, integrity and competence, as well as keep borrowers up to date on any changes in rates or home loan policies which could affect their ability to get the best mortgage loan. With rates being pretty much stagnant going into the holidays and still more or less flat until now, many borrowers are probably wondering when California mortgage rates are going to start moving again and which direction they will go.
A January 6th report from Mortgage News Daily explains, "After 2 weeks with exceptionally light activity due to holidays and inclement weather in New York, bond markets get back to business today. Not only do we have a full week of economic data with several significant reports/events, but even the weather is cooperating as NY warmed from the 10's to the 40's over the weekend. The spooky coincidences continue with this week being the first Treasury auction cycle in 2 weeks, and the more potent 3/10/30yr variant at that. Other contributions include:

The fact that 10yr yields left off last week at exactly 3.000%
The presence of relevant economic data, auctions, or Fed speakers every day this week.
One of the biggest insights to monetary policy in the form of FOMC Minutes on Wednesday
The biggest piece of monthly economic data in the form of Nonfarm Payrolls on Friday.
Ok, so maybe it's not really that 'spooky,' but taken together, the details of this week certainly add up to "back to business.""
Blue Loan Services explains that with all that is going on this coming week it is pretty much a sure bet that California home loan rates are going to be seeing some movement. The question is: will rates go up or down? While it is impossible for any one to predict with certainty which way rates will head, the consensus for 2014 in general is that rates are on their way up. The withdrawal of the Fed's support in the form of the tapering of their bonds purchases has already been pushing rates up since mid 2013, and rates will continue to go up until they "normalize". However, this does not mean that there won't be any "dips" along the way that mortgage borrowers can use to their advantage.
For the time being, though, it might be wise for those who are ready to close on a loan to bite the bullet and lock in the current low home loan rates. Not only is there no other way to guard against potential higher rates later in the week, but the fact that there are also other fees and qualifications currently being evaluated that will make it more difficult for mortgage borrowers down the line make applying for a loan as soon as possible the safest choice.
Blue Loan Services can help those who wish to lock in the current rates to find the best possible loans for their situation and work quickly to get approved so that they can avoid higher rates down the line. Their fast online loan application and documentation portal makes it simple for clients to submit their application and keep track of their loan's progress. With a reputation for fast, reliable and courteous service, the company's team of experienced loan officers can be especially useful during this time of rapidly changing mortgage rates.
For more information on how Blue Loan Services can help California home loan borrowers get approved for their home purchase loan or refinance quickly, please visit BlueLoanServices.com or call 1-888-929-BLUE (2583) to speak with an experienced mortgage professional.
CA Dept of Real Estate -- Licensed Broker #01094374 NMLS #938365