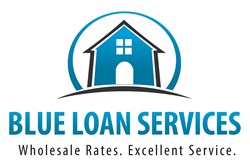 San Diego, CA (PRWEB) February 21, 2014
California borrowers were faced with the highest CA mortgage rates in a month, even after a weak Jobs Report, which would usually cause rates to decrease. However, the weak data was blamed on bad weather, and instead of going down, mortgage rates are now heading back up. Blue Loan Services, a full service mortgage company that has been serving California with the lowest mortgage rates and the best loan products for many years, comments on the current state of affairs and gives some advice for those who are waiting to find the right mortgage rate to lock in.
As a February 20th report from Mortgage News Daily explains, "Mortgage rates continued higher today after it became clear that markets were discounting weak economic data due to weather. In that sense, mortgage rates' are missing their best friend as weak data is typically one of the primary reasons rates move lower. There were other, more complicated factors in play, but ultimately rates were rising in concert with stock prices, which is an uncomplicated relationship that speaks to investors moving money toward "risk."
The same article also states, "In a more average meteorological year, the type of economic data we've seen so far in February would probably be pushing rates slightly lower. While part of the problem may be the handsome improvements in January (and some natural "push back" against concerted, linear movement), the bigger issue is that the economic data itself is citing the uncommonly cold/snowy weather as justification for the slowdown."
Blue Loan Services explains that the prevailing sense of uncertainty within financial markets means that small factors could cause unexpected movement. While this could be a good thing and cause rates to go down, it could also mean rates moving up for no better reason than market participants going with the flow if it seems things are shifting in that direction. Because of this, Blue Loan Service's advice to most borrowers is that locking in their loan is the best course of action. With such unpredictable rate movement, it would be better to lock in now and possibly renegotiate in the off chance rates do get lower, than the wait it out and be stuck with a higher rate that borrowers will not be able to do anything about.
Blue Loan Services can help those who wish to lock in today's low mortgage rates to find the best possible loans for their situation and work quickly to get approved so that they can avoid higher rates down the line. Their fast online loan application and documentation portal makes it simple for clients to submit their application and keep track of their loan's progress. With a reputation for fast, reliable and courteous service, the company's team of experienced loan officers can be especially useful during this time of uncertainty.
For more information on how Blue Loan Services can help California home loan borrowers get approved for their home purchase loan or refinance quickly, please visit BlueLoanServices.com or call 1-888-929-BLUE (2583) to speak with an experienced mortgage professional.
CA Dept of Real Estate -- Licensed Broker #01094374 NMLS #938365