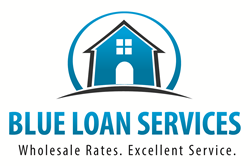 San Diego, CA (PRWEB) March 27, 2014
Mortgage rates reached their lowest levels of the week today and are nearly back where they were prior to last week's FOMC Forecasts announcement which sent rates spiking upwards. Blue Loan Services, a full service California mortgage company that has been providing the lowest rates and best loan products for many years, comments on this current situation and gives some advice for those who are not sure how to best proceed with their home loan plans.
A March 27th report from Mortgage News Daily states, "Mortgage rates moved moderately lower today, further improving on what has generally been a slow-paced week of gains. The yard-stick measuring that progress is the rate environment on last Wednesday morning before the FOMC Announcement and Forecasts sent rates quickly higher in the afternoon. Today's latest rate sheets are close to measuring up in some cases, though lenders have been more stratified in their pricing strategies into the end of the quarter (so some are close to Wed morning's levels while others are not, and everything in between)."
Blue Loan Services explains that this is the fifth day where rates have either moved sideways or have gotten slightly better. The mortgage company warns that a "winning streak" of this length is due for a correction the other way anytime soon, and with next week's all-important NFP report looming up ahead, it might be the best option to lock in this week's gains. Those within a few weeks of closing should definitely consider this, and even those who are not yet going through the loan process should consider locking in today's rates with a lender that allows renegotiation.
By using this strategy, borrowers will have the safety of current low rates locked-in and also have the opportunity to renegotiate if rates decrease significantly before their loan closes. Blue Loan Services can help borrowers within California who wish to lock in today's low mortgage rates to find the best possible loans for their situation and work quickly to get approved so that they can avoid higher rates down the line.
Their fast online loan application and documentation portal makes it simple for clients to submit their application and keep track of their loan's progress. With a reputation for fast, reliable and courteous service, the company's team of experienced loan officers can be especially useful during this time of uncertainty in mortgage rates.
For more information on how Blue Loan Services can help California home loan borrowers get approved for their home purchase loan or refinance quickly, please visit BlueLoanServices.com or call 1-888-929-BLUE (2583) to speak with an experienced mortgage professional.
CA Dept of Real Estate -- Licensed Broker #01094374 NMLS #938365