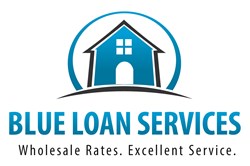 San Diego, CA (PRWEB) September 01, 2013
Blue Loan Services is a full service mortgage company that has been helping residents of California to find the best loan products and home loan rates for many years. The company, headed by the father and son team Robert and Brandon Blue, has been dedicated to serving its customers with honesty, integrity and competence. The Blue Loan Services team of mortgage professionals operates with the goal to provide home loans to its clients while providing them with the lowest interest rates and closing costs possible. The company also offers advice to borrowers on what to make of current mortgage news. Now, with California home price gains slowing, many home buyers that had put off their plans to buy a house because of the volatile real estate market are back on the lookout for affordable housing. Blue Loan Services gives some advice for those who are looking for the best home purchase mortgage rates at this time.
The loan officers at Blue Loan Services are experts at finding and executing the lowest home purchase rates and helping prospective buyers to find the best housing for their financial situation in the area of their choosing. BlueLoanServices.com says: "A properly structured home purchase loan allows you to get the home you want with a payment that fits your budget. Even first time home buyers have many options when it is time to purchase their first home. We can help you choose the right program, price range, and even direct you to the right Realtor for you in your area."
These services can be a huge benefit for prospective homeowners who are now looking for housing thanks to the recent slowing of home price increases. A report from Mortgage News Daily posted this August 27th says: "The National Home Price Index, which is released quarterly, shows that home prices across the country are, on average, back to early 2004 levels. The 10-City and 20-City Composite indices are also back to spring 2004 price levels and the peak to current decline is approximately 23 percent."
"National home prices rose more than 10% annually in each of the last two quarters," David M. Blitzer, Chairman of the Index Committee at S&P Dow Jones Indices said. "However, the monthly city by city data show the pace of price increases is moderating.
"The Southwest and California have consistently led the recovery," Blizer said, "with Las Vegas, Los Angeles, Phoenix and San Francisco posting at least 15 months of gains. Looking at the cities, New York recorded its highest monthly return since 2002. Atlanta was up the most at +3.4% and Washington DC had the lowest return at +1.0%. In terms of annual rates of change, San Francisco lost its leadership position with Las Vegas showing the highest post-recession gain of 24.9%."
With California leading the way for lower housing prices it is no surprise that so many people are eager to find the best rates and prices. Blue Loan Services advice for anyone who has been contemplating purchasing a new home but is still on the fence is that these lower home prices may not last, especially with so much uncertainty in the real estate market due the Fed's proposed discontinuation of their bonds buying program. Because of this, it would be wise for those who are serious about looking for a house, to start the process by find out what type of mortgage structure is right for them, how much they can afford to pay for a house and getting pre-approved for their loan so that when they find the right house they can move fast to close the deal. Blue Loan Services can help clients to do all this. A recent Blue Loan Services review from a homeowner who closed a home purchase loan with the company says:
"I worked with Brandon Blue last year to refinance my home. Last month, when I was purchasing a rental property, I decided to work with Brandon because I trusted that he could get the job done. He and his loan processor, Kari Shane, worked diligently on my loan. Even though my 30-day escrow closing was delayed a few days, everything worked out just fine. I have already recommended Brandon's team to my friends and would consider using him again."
For more information on how Blue Loan Services can help home loan borrowers get approved for their home purchase loan or refinance quickly, please visit BlueLoanServices.com or call 1-888-929-BLUE (2583) to speak with an experienced mortgage professional.
CA Dept of Real Estate -- Licensed Broker #01094374 NMLS #938365