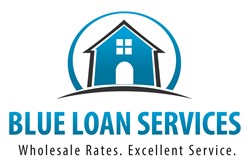 San Diego, CA (PRWEB) December 02, 2013
Blue Loan Services is California mortgage company that has strived to provide the best loan products, the lowest wholesale rates and closing costs, and the fastest and most professional loan experience to California home loan borrowers for many years. Headed by the father and son duo, Robert and Brandon Blue, the company and its experienced loan professionals are dedicated to serving their clients with the highest level of professionalism, courtesy and integrity. In order to continue providing the best loan services to their clients, the company is constantly keeping updated on any situations in the real estate and finance environment which could have an impact on the products and rates available to home loan borrowers. Now, with the all important December jobs report just days away, the company comments on the recent improvement in CA mortgage rates and how the upcoming reports could affect this.
As was stated in a November 29th report from Mortgage News Daily: "With today's slight improvement, the week ends up looking rather flat in terms of overall movement from last Friday. This is about what you'd expect given the absence of significant events this week and extremely important events in the week ahead. Next Tuesday is the only day next week that does NOT contain an important economic report in the morning. Friday hosts the Employment Situation (aka "jobs report, official employment data, NFP") which is the most important economic report for the rest of the year."
Blue Loan Services explains that this report is extremely important, because it is bound to affect the Federal Reserve's decision on when to start tapering their bonds buying program. If the report presents strong data showing that there is significant improvement in the economy, this could very well signal the Fed that the time to start tapering is at hand. This would cause mortgage interest rates to increase – possibly drastically – since the Fed's bonds purchases are greatly responsible for the low mortgage rates the country has enjoyed over the last few years. As the above quoted article says:
"Investors increasingly believe the Fed may move to reduce asset purchases in December if the upcoming jobs report is strong enough, though a great deal of debate remains. If that happens, it would likely result in an immediate move higher for rates--perhaps significantly. Investors will draw conclusions about the Fed decision almost immediately on Friday and may begin leaning in one direction several days in advance. The point is that we're going from what has been a very flat few weeks to a potentially much more volatile December."
Blue Loan Services warns borrowers that waiting to see what will happen may not be the best course of action. Those who are near closing should consider locking in their rate before the report, because even if the report comes back negative, and mortgage rates improve, many lenders will allow their clients to renegotiate their rates – this would not be the case if rates increase, as there is no way the borrower can go back and lock in a previous low interest rate if they have not done so already.
Blue Loan Services can help those who wish to lock in the current rates to find the best possible loans for their situation and work quickly to get approved so that they can avoid higher rates down the line. Their fast online loan application and documentation portal makes it simple for clients to submit their application and keep track of their loan's progress. With a reputation for fast, reliable and courteous service, the company's team of mortgage professionals can be especially useful during this time of rapidly changing mortgage rates.
For more information on how Blue Loan Services can help California home loan borrowers get approved for their home purchase loan or refinance quickly, please visit BlueLoanServices.com or call 1-888-929-BLUE (2583) to speak with an experienced mortgage professional.
CA Dept of Real Estate -- Licensed Broker #01094374 NMLS #938365