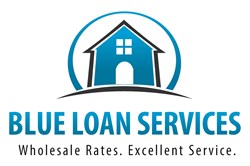 San Diego, CA (PRWEB) October 25, 2013
Blue Loan Services is a full service mortgage company that has been helping residents of California to find the best loan products and home loan rates for many years. The company, headed by the father and son team Robert and Brandon Blue, has been dedicated to serving its customers with honesty, integrity and competence. The Blue Loan Services team of mortgage professionals operates with the goal to provide home loans to its clients while providing them with the lowest wholesale interest rates and closing costs possible. With the long delayed Employment Situation Report resulting in a California mortgage rates decrease, Blue Loan Services can provide even better rates for their clients who are looking into applying for home purchase or refinance loans.
A report released on October 22nd on Mortgage News Daily says: "Mortgage rates fell abruptly today, after the long-awaited Employment Situation Report painted a bleaker-than-expected picture for labor markets. The report was originally scheduled for October 4th, but was delayed due to the shutdown. Conforming 30yr Fixed rates (best-execution) moved down to 4.125% for many borrowers depending on the scenario, though some lenders remain at 4.25%. To say that financial markets had been eagerly anticipating the release of this data is an understatement. Apart from a brief spat of volatility leading into and away from the debt ceiling deal, the absence of this jobs report has been the driving force for rates markets--acting to prevent any convicted movement in either direction. As those barriers were lowered today, and as the report spoke to ongoing labor market weakness, bond markets improved significantly, including MBS, the "mortgage-backed-securities" that most directly influence rate sheets. When MBS prices improve, rates fall--all things being equal."
These new low rates are a godsend to many home buyers and owner that have been delaying their plans for getting a home loan due to the higher rates seen over the last few months. The shift in rates may be the start of a decreasing trend, which will help more individuals to get great loan rates that can help them to save thousands or even hundreds of thousands of dollars over the life of their loans. Blue Loan Services team of mortgage experts has been helping California residents to realize these types of savings for many years.
A recent review from client that completed a refinance loan with the company says: "From the very start of my loan process Brandon Blue was very professional and personable. He answered my phone calls and e-mails either immediately or as soon as my information was available. The entire process was seamless and efficient including the appraisal and all other individuals involved. I was able to re-fi my home mortgage and reduce my rate from 5.375% to 3.75% - A $703 a month interest savings and $200K savings over 10 years! The entire process from date of "lock" to loan funding took less than 30 days. If you want your loan to be completed professionally and in a timely manner I highly recommend Brandon Blue of Blue Home Loans and his Team!"
For more information on how Blue Loan Services can help California home loan borrowers find the best rates and get approved for their home purchase loan or refinance quickly, please visit BlueLoanServices.com or call 1-888-929-BLUE (2583) to speak with an experienced mortgage professional.
CA Dept of Real Estate -- Licensed Broker #01094374 NMLS #938365