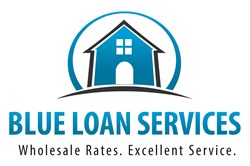 San Diego, CA (PRWEB) October 22, 2013
Blue Loan Services is a full service mortgage company that has been helping residents of California to find the best loan products and home loan rates for many years. The company, headed by the father and son team Robert and Brandon Blue, has been dedicated to serving its customers with honesty, integrity and competence. The Blue Loan Services team of mortgage professionals operates with the goal to provide home loans to its clients while providing them with the lowest interest rates and closing costs possible. Recently California mortgage rates reached 4 month lows which gave mortgage borrowers a unique opportunity to lock in a great home purchase or refinance rate ahead of the employment report, which may bring higher rates in the near future.
The report issued on October 18th from Mortgage News Daily says: "Mortgage rates fell only slightly today, but with yesterday already near 4-month lows, today's moderate improvement makes it official--at least in terms of closing cost. The actual interest rate that the best qualified buyers are likely to be quoted isn't any lower than the previous 4.25% (best-execution). The gains would instead be seen in the form of slightly lower closing costs, or slightly higher lender credit depending on the scenario."
These low mortgage rates could change quickly however. As the article points out, the real test will be when the Employment Situation Report is released. The article says: "Before, during, and after the shutdown, we've maintained that bond markets are most intently focused on the official Employment Situation Report. For the past 3 weeks the focus was on the absence of the report, which caused uncertainty. With the exception of the last few days before the debt ceiling deadline, this led to a narrow interest rate environment. With the shutdown over, the jobs report will now be released this coming Tuesday. With it comes our first major cue for interest rate momentum since September 18th."
Mortgage rates could go up or down after this report is released. The thing that mortgage borrowers need to determine when it comes to settling for current rates or waiting it out is whether the benefits of a potentially slightly lower rate would outweigh the risk of rates increasing after the report is released. Today's mortgage rates are still comparatively low, and with Blue Loan Services wholesale prices California residents are guaranteed to get the best deal.
The California mortgage company can help those who wish to lock in the current rates to find the best possible loans for their situation and work quickly to get approved so that they can avoid higher rates down the line. Their fast online loan application and documentation portal makes it simple for clients to submit their application and keep track of their loan's progress. With a reputation for fast, reliable and courteous service, the company's team of mortgage professionals can be especially useful during this time of rapidly changing mortgage rates.
For more information on how Blue Loan Services can help California home loan borrowers get approved for their home purchase loan or refinance quickly, please visit BlueLoanServices.com or call 1-888-929-BLUE (2583) to speak with an experienced mortgage professional.
CA Dept of Real Estate -- Licensed Broker #01094374 NMLS #938365