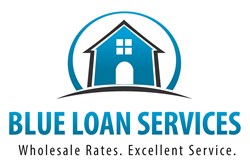 (PRWEB) October 11, 2013
Blue Loan Services is a full service mortgage company that has been helping residents of California to find the best loan products and home loan rates for many years. The company, headed by the father and son team Robert and Brandon Blue, has been dedicated to serving its customers with honesty, integrity and competence. The Blue Loan Services team of mortgage professionals operates with the goal to provide home loans to its clients while providing them with the lowest interest rates and closing costs possible. The company also offers advice to borrowers on what to make of current mortgage news. With all the turmoil the government shut down has been causing, many home loan borrowers are probably wondering how the situation is affecting mortgage rates. The good news is that despite all the volatility, California mortgage rates are stable for refinance and home purchases, so the shut down does not need to hinder people's home loan activities.
Blue Loan Services explains that the reason for the very steady range in rates is actually partially due to the shutdown, since many economic reports which are used to indicate whether rates will go up or down have been delayed thanks to the halt in government services. This stability has resulted in a unique situation for borrowers, as it can give them a chance to lock in the low refinance rates before they go up again, which could quite possibly happen once the shutdown is resolved. An article posted by Mortgage News Daily on October 9th explains:
"While there was rapid fluctuation between highs and lows in the underlying markets today, it all occurred in a vacuum relative to "pre-shutdown" trading. In other words, the government shutdown has sapped investors' conviction to move very far toward higher or lower rates. As such, we've been essentially stuck in this range for 2 weeks, with only minor variations from day to day. If something changes this dynamic before the shutdown ends, we won't know what it is until after it already happens. Otherwise, it's the pent-up economic data that will do the trick. Almost all of the data that would otherwise fuel market movement has been postponed due to the shutdown. It's not even rescheduled yet, and won't be until the shutdown ends."
Because of the delayed data, as well as the shutdown and debt ceiling, there is sure to be a lot of volatility in store, however there is no way to predict which way rates will go until the data is available. For those who want to refinance their loans, this could be the best opportunity to do so, as it is not certain how long the currently low rates will still be available. Locking in now could mean that the home loan borrower is able to refinance with the most favorable rates, and thus save tens or hundreds of thousands of dollars over the life of their loan. Blue Loan Services can help homeowners to find and lock in the best refinance rates quickly so that they can realize this benefit.
For years, the loan company has specialized in helping California residents to find the best refinance rates and terms, and these services can come in particularly handy now that future rate trends are so unpredictable. For more information on how Blue Loan Services can help California home loan borrowers get approved for their home purchase loan or refinance quickly, please visit BlueLoanServices.com or call 1-888-929-BLUE (2583) to speak with an experienced mortgage professional.
CA Dept of Real Estate -- Licensed Broker #01094374 NMLS #938365