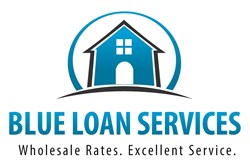 San Diego, CA (PRWEB) October 30, 2013
Blue Loan Services is a full service mortgage company that has been helping residents of California to find the best loan products and home loan rates for many years. The company, headed by the father and son team Robert and Brandon Blue, has been dedicated to serving its customers with honesty, integrity and competence. The Blue Loan Services team of mortgage professionals operates with the goal to provide home loans to its clients while providing them with the lowest wholesale interest rates and closing costs possible. Now, with CA refinance rates consistently lower after the debt ceiling resolution, the refinance experts at Blue Loan Services can get California homeowners even better refinance deals.
As a recent article, posted on October 25th, from Mortgage News Daily, reports:
"Mortgage rates held steady yet again, ending their second week of significant improvement and contributing to what may soon be the first 2-month stretch of improvement since the Spring of 2012. Some lenders' rate sheets were slightly weaker today while others improved. The net effect was an unchanged 30yr fixed rate of 4.125% (best-execution), on average for ideal scenarios, with the day-over-day changes being seen in the form of higher or lower closing costs."
Blue Loan Services has been helping residents of the Sunshine State to get the best refinance loans for their situations for many years. Their fast and easy to understand loan process enables their clients to proceed with their refinance plans with confidence, knowing that their loan application is in the right hands. These services are praised in a number of recent reviews of the company.
One individual who recently completed a refinance with the company says: "We had five re-financings done by Mr. Brandon Blue of Blue Home Loans. We found him to be very reliable and honest. He was quite responsive to our queries at various stages of re-financings. His refinancing cost estimates were quite reliable and matched those with the closing statements. We highly recommend him to anyone for for their refinancing needs without any reservation. Balbir S. Narang,Professor Dept. of Aerospace Engineering San Diego state University, San Diego"
Another of the recent Blue Loan Services review from a client in Corona, CA, who closed a refinance says: "Brandon always kept me informed regarding the status the loan process. Brandon covered various situations and provided definitions for unfamiliar terms with concise, easy to understand explanations. Brandon was not only informative, he was also very friendly and courteous. Brandon and Kari expedited requests and documents efficiently. This was the best loan experience I have ever had (and I have been through many loan processes). Great work Brandon and Kari."
These are just a few of the many new reviews that attest to the company's expertise when it comes to home loan refinances. For more information on how Blue Loan Services can help California home loan borrowers get approved for their home purchase loan or refinance quickly, please visit BlueLoanServices.com or call 1-888-929-BLUE (2583) to speak with an experienced mortgage professional.
CA Dept of Real Estate -- Licensed Broker #01094374 NMLS #938365