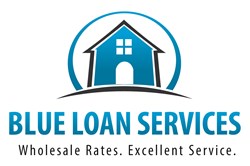 San Diego, CA (PRWEB) January 05, 2014
Blue Loan Services is a full service mortgage company that has been helping California home loan borrowers to find the best loan products and benefit from the lowest mortgage rates and fees for many years. The Blue Loan Services team of mortgage professionals, headed by the father/son team Robert and Brandon Blue, is dedicated to serving its customers with honesty, integrity and competence. The company also strives to keep borrowers up to date on any changes in the mortgage or finance worlds which could affect their ability to secure affordable home financing, such as changes in rates or home loan policies. Blue Loan Services now explains that the last few weeks' slow rate movement might have been a good opportunity for many California borrowers to lock in relatively low rates, but warns that this coming week will see more movement thanks to the upcoming Jobs Report and other economic data.
A January 3rd report from Mortgage News Daily explains, "Mortgage rates were even more unchanged today than yesterday. Not only was the average rate among various lenders unchanged, but individual lenders all stayed closer to the yesterday's rate sheets, whereas some were a bit higher or lower yesterday." The same article explains, "Although the holidays are officially behind us, the bond markets that underpin mortgage rate movement have managed to remain in "holiday mode." Part of this has to do with the fact that this week still contained a day and a half of down time for bond markets, but the blizzard in New York certainly didn't encourage traders to be in the office. This time around, light holiday activity didn't result in any extreme volatility for interest rates, as it sometimes can. Although we shouldn't necessarily expect excessive movement in either direction, the level of activity should pick up next week. More traders will be back from vacations (forced or otherwise) and important data will require more attention, especially Friday's Employment Situation Report. The implication of increased activity is more potential movement in rates, for better or worse."
Blue Loan Services notes that the change in interest rates may not necessarily be bad (a move upward); however, the company cautions borrowers to take into account the fact that the majority of 2014 mortgage rate predictions have mortgage rates rising steadily throughout the year and this, as well as a number of other factors, means that borrowers who are ready to apply for a home loan should do so as soon as they can. Blue Loan Services can help those who wish to lock in the current rates to find the best possible loans for their situation and work quickly to get approved so that they can avoid higher rates down the line. Their fast online loan application and documentation portal makes it simple for clients to submit their application and keep track of their loan's progress. With a reputation for fast, reliable and courteous service, the company's team of experienced loan officers can be especially useful during this time of rapidly changing mortgage rates.
For more information on how Blue Loan Services can help California home loan borrowers get approved for their home purchase loan or refinance quickly, please visit BlueLoanServices.com or call 1-888-929-BLUE (2583) to speak with an experienced mortgage professional.
CA Dept of Real Estate -- Licensed Broker #01094374 NMLS #938365