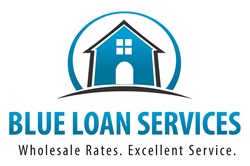 San Diego, CA (PRWEB) January 15, 2014
Blue Loan Services is a full service mortgage company that has been helping residents of California to find the best loan products and home loan rates for many years. The company, headed by the father and son team Robert and Brandon Blue, has been dedicated to serving its customers with honesty, integrity and competence. The Blue Loan Services team of mortgage professionals operates with the goal to provide home loans to its clients while providing them with the lowest interest rates and closing costs possible. The company also strives to keep borrowers up to date on any changes in the real estate and finance industries that could affect their ability to obtain an affordable mortgage. Recently California home loan rates experienced a sudden decrease that lasted a few days thanks to a weaker than expected Jobs Report. However, this trend has ended and now rates are slightly higher, although still near recent lows.
A January 14th report from Mortgage News Daily explains, "Mortgage rates moved moderately higher today, giving back some of the impressive gains seen since last Thursday. Most of that improvement came on Friday, following the shockingly weak employment data. Thankfully, those gains are still intact for most lenders, and with the exception of yesterday, today's rates are the best since late November. 4.5% remains a more prevalent rate quote for the the best-qualified conforming, 30yr fixed scenarios (best-execution). Today's movement was much ado about nothing. Although we had an important piece of economic data this morning in the form of Retail Sales, it didn't motivate this weakness. The bond markets that underlie mortgage rates were already on the move before the data and found other reasons to move afterward. One of those reasons is the stock market."
Blue Loan Services explains that even though economic reports are obvious factors in which way mortgage rates will move, there are a number of other determining factors that can cause rates to increase or decrease. This is why it is impossible to predict with one hundred percent accuracy which way mortgage interest rates will move over the course of a few days or even over the next 24 hour period. Those who locked in the low mortgage interest rates of the past few days will likely be sighing with relief. Those who did not might want to seriously consider locking in today's low rates, which Blue Loan Services points out are not that much higher than before, since rates are expected to continue rising throughout the year and it seems like this pocket of recovery has come to an end.
Blue Loan Services can help those who wish to lock in today's low mortgage rates to find the best possible loans for their situation and work quickly to get approved so that they can avoid higher rates down the line. Their fast online loan application and documentation portal makes it simple for clients to submit their application and keep track of their loan's progress. With a reputation for fast, reliable and courteous service, the company's team of experienced loan officers can be especially useful during this time of rapidly changing mortgage rates.
For more information on how Blue Loan Services can help California home loan borrowers get approved for their home purchase loan or refinance quickly, please visit BlueLoanServices.com or call 1-888-929-BLUE (2583) to speak with an experienced mortgage professional.
CA Dept of Real Estate -- Licensed Broker #01094374 NMLS #938365