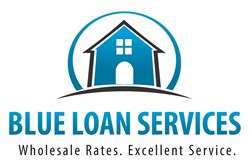 San Diego, CA (PRWEB) September 06, 2013
Blue Loan Services is a full service mortgage company that has been helping residents of California to find the best loan products and home loan rates for many years. The company, headed by the father and son team Robert and Brandon Blue, has been dedicated to serving its customers with honesty, integrity and competence. The Blue Loan Services team of mortgage professionals operates with the goal to provide home loans to its clients while providing them with the lowest interest rates and closing costs possible. The company also offers advice to borrowers on what to make of current mortgage news. Now, with the jobs report due to be released today, many California based home loan borrowers are wondering where California mortgage rates are headed. Blue Loan Services reviews the current situation and gives advice for those who are unsure about their home purchase or refinance plans.
Blue Loan Services explains that these rate increases are due to a number of factors, chief of which is the anticipation that has been caused by the Fed's announcement back in June that alerted everyone to the fact that the Fed was considering scaling back their bonds purchasing program and eventually bringing it to a close. Interest rates skyrocketed almost overnight after this announcement but had leveled off since, as the Federal Reserve assured the public that it would only start to taper off the program if the economy showed sufficient growth, primarily if unemployment rates reached an adequately low level.
However, rates have gone up again over the past few days as investors have been defending against what most are agreeing will be a favorable jobs report. If today's report does show that unemployment has gone down, it is very likely that the Federal Reserve will decide to go ahead with their plans to discontinue their bonds purchasing activity. This decision will probably be made when the Fed meets this September 18th. But, even if the Fed does decide to stop their program, some feel that interest rates have leveled out to the point where they would not be much higher even without the Fed buying mortgage backed securities to artificially keep them down.
A report from Mortgage News Daily posted this September 4th says: "With today's rates still inside the newer, higher range of the past two months, it's much more important to consider where they could go from here. There is no shortage of opinion suggesting that rates have topped out or that they've evolved into a more gently-sloped existence. The dangerous thing about this assessment is that it's equally at home in the outlook of interest rate bulls and bears! In other words, even those who are expecting rates to continue to rise long term looked at July and August as a 'leveling-off' process before the next big move. This is all the more important because the next two days represent the first real opportunity for that 'next big move' to start happening. It's no coincidence we're back near the edge of a 2 month range because markets are defending against the prospect that we'll soon be pushed out of that range."
If the jobs report does show signs of recovery, it is very likely that rates will rise yet again and continue to get higher either at a gentle slope or quickly like they did in June, but most experts agree that either way they are headed up. This means that borrowers who want to get the best possible mortgage rates should act fast to find the best loan for their situation and lock in their rates as quickly as they can. Blue Loan Services points out that there is always a possibility to renegotiate in the unlikely event that rates do drop before the loan closes, but if the home loan borrower misses the opportunity now and rates get higher down the road, they will not have the option to get back the lower starting rates.
Blue Loan Services can help those who wish to lock in the current rates to find the best possible loans for their situation and work quickly to get approved so that they can avoid higher rates down the line. Their fast online loan application and documentation portal makes it simple for clients to submit their application and keep track of their loan's progress. With a reputation for fast, reliable and courteous service, the company's team of mortgage professionals can be especially useful during this time of rapidly changing mortgage rates.
For more information on how Blue Loan Services can help California home loan borrowers get approved for their home purchase loan or refinance quickly, please visit BlueLoanServices.com or call 1-888-929-BLUE (2583) to speak with an experienced mortgage professional.
CA Dept of Real Estate -- Licensed Broker #01094374 NMLS #938365