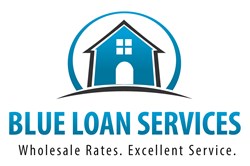 San Diego, CA (PRWEB) September 08, 2013
Blue Loan Services is a full service mortgage company that has been helping residents of California to find the best loan products and home loan rates for many years. The company, headed by the father and son team Robert and Brandon Blue, has been dedicated to serving its customers with honesty, integrity and competence. The Blue Loan Services team of mortgage professionals operates with the goal to provide home loans to its clients while providing them with the lowest interest rates and closing costs possible. The company also offers advice to borrowers on what to make of current mortgage news. Now, with the long anticipated results of the jobs report finally available, and the immediate response in interest rates more lukewarm than most were expecting, many homeowners in the Golden State are wondering just what to expect from California mortgage rates so that they will know how to proceed with their home loan plans.
Blue Loan Services explains that this somewhat lackluster mortgage rate development should not be cause for anyone to let down their guard. Although the data released was weak, many feel that it really is not weak enough for the Federal Reserve to reconsider their proposed tapering of their asset purchases (which have been keeping interest rates artificially low) some time this September. However, for the time being, interest rates are still at a point where they could be considered favorable over the rates that were being offered a year or more ago. It is important to remember though, that this is probably a temporary state that mortgage rates are in. The report released from Mortgage News Daily on the 6th of September says: "The employment data was just weak enough to cast a modicum of doubt on the certainty of the Fed announcing tapering on September 18th. Even if it doesn't cast such doubt for all market participants, July's revision to 104k payrolls can't help but suggest a somewhat softer approach."
This may give a lot of home loan borrowers hope for recovering interest rates, but Blue Loan Services advises their clients to not let their guard down. The best course of action is still to lock in current loan rates as soon as possible, as there is no guarantee that rates will get any lower any time soon. The Fed will meet again on the 18th and they are expected to discuss and finalize their decision about the discontinuation of their bonds buying program and if this pushes through it is a great possibility that there will be another surge in home loan rates. In the event that rates do go down, many lenders will allow for a renegotiation. However, it will not be possible to go back to the previously lower rates if rates do increase.
The main thing to remember is that, while rate increases have slowed for the time being, the long term outlook still very iffy. The same article mentioned previously says: "The bounce back is "good, but not great." It leaves some room for debate about how tapering will shape up, but consider that we have the most dovish member of the FOMC (Chicago Fed's Evans) out this morning AFTER the jobs data saying he "could be persuaded" that it makes sense to reduce asset purchases in September. It's hard not to view this morning's rally as a victorious battle in a war that we're losing."
Blue Loan Services can help those who wish to lock in the current rates to find the best possible loans for their situation and work quickly to get approved so that they can avoid higher rates down the line. Their fast online loan application and documentation portal makes it simple for clients to submit their application and keep track of their loan's progress. With a reputation for fast, reliable and courteous service, the company's team of mortgage professionals can be especially useful during this time of rapidly changing mortgage rates.
For more information on how Blue Loan Services can help California home loan borrowers get approved for their home purchase loan or refinance quickly, please visit BlueLoanServices.com or call 1-888-929-BLUE (2583) to speak with an experienced mortgage professional.
CA Dept of Real Estate -- Licensed Broker #01094374 NMLS #938365